NOTE* emails received with no subject details are automatically deleted
07733 218822
Disclaimer: Every effort has been made to ensure the accuracy of all the information but errors may occur
*Below* NOS & used spares collected over 40 years *
*Below* Original Classic vehicle lights*
Below Rare Original Vintage 1930's Lucas King of the road model C50 Car / Van / Truck
Stirrup cradle headlights with brace tube clamp, rim ear mountings.
8.1/2 inch diameter max including alloy bezel. 11 inch including stirrup ears
Headlights painted brass bowl with alloy rims . £ 375
185 Below Riley 1930 's Kestrel ( Centre Riley blue enamel badge ) 10".1/2 inch pair of head lights black painted backs
Including the wings brace tube mount & anti shatter lens's including a rare centre nose cone. £625 offers
Below left to right Vintage Brass pillar/hand lamp 3.5/8 " lens £85
2 Nice Chrome Eversure pillar lamp rear handle 4.3/4 " glass rim etched lens, body switch £135
3 Chrome Raydot spot light rear handle 3. 3/4 " lens £95
Far right Cibie unusual vintage Chrome dipping spot light rear handle, sprung mounting 4.3/4 lens £ 75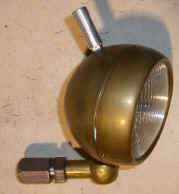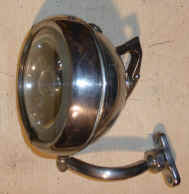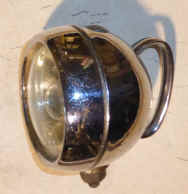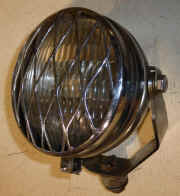 Below * Three registration numbers for sale on behalf of a friend
On retention Offers please
JB 1705 (1930) UUN 23 (1950) BPO 53 (1930)
BELOW B16 DOO Weddings, Funerals ! BI6 LRO Big Landrover owner
Including Retention certificates and alloy plates.
used by me for many years. It is time for them all to go.

Also BI6 MUG from when we had a China business All £1500 each
1929 Registration VO 5743 Last used on a Ex Military Land Rover now exported, hence the spacing on the
plates below left. On retention with certificate & including the original alloy plates. £1500

Below left Pair Landrover sliding side windows with rubber seals not rivet type. £150
Below right Landrover Genuine early sun roof "lift out" with glass bag and seal original box. £125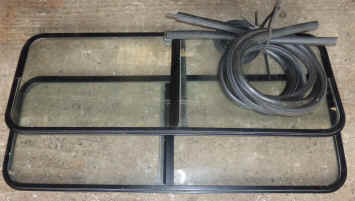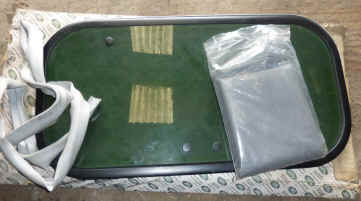 Below Landrover Series galvanised soft top header rail. £50
Below Range Rover classic strong wrap around bull bar with spot lights. tidy condition £125

Below Left Genuine Original USA Classic Trumpet horns 12 volt with sprung mount bracket very loud. £170
Below right Daimler MK 250 Hub caps some pitting good alloy "D" centre badge's
Ideal sacrificial for regular use save your mint caps for show. £45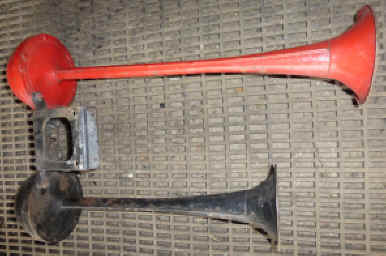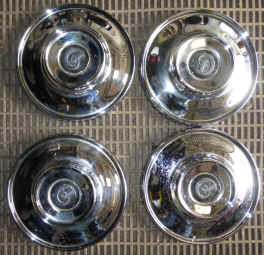 Below right Custom Landrover Defender and Series dual front tow hitch to fit standard bumper. quick removal. £135
Below middle Landrover series 109 / Early 110 blank side panels. Could include the roof £175
Full 109 standard hard top roof available.
Below left Arles blue 110 hard top side panels with LR OE sliding windows £350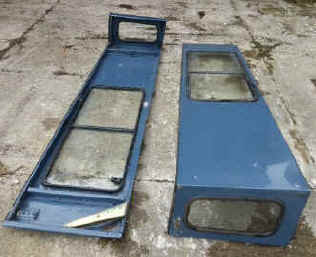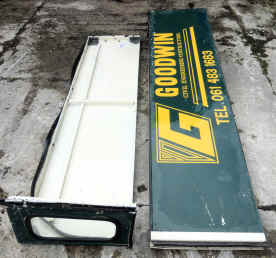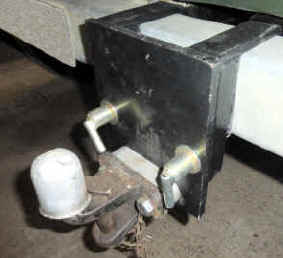 Below Left Landrover Front outer seats Full set Military 90/110 or Series with adjustable seat base runners & frames
New OE cushions including the stepped side nuts and washers £345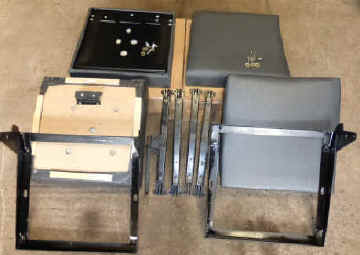 Below Classic Spot lights all 24 to be sold as a single package £250
Below left Hella 9 inch spot/ fog lights. chrome rims bronze painted backs
Below right Lucas 20.20 7 inch two spot lights Chrome rim black back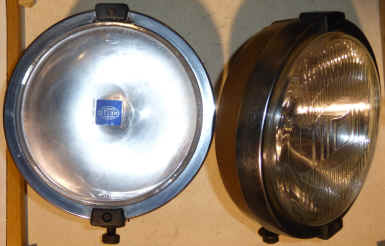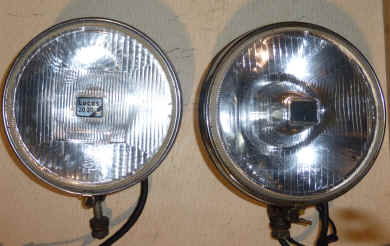 Below left Wipac 8 inch two spot lights with lens guards chrome rim black backs
Below right Wipac 8 inch two spot lights without lens guards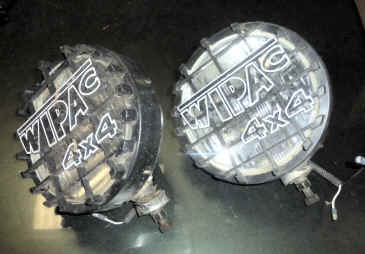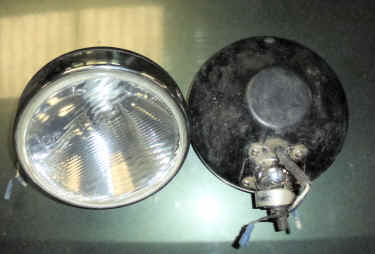 Below right Wipac 7 inch single spot light painted back glass rim
Below left Cibie Oscar 6.1/2 inch two spot lights, all black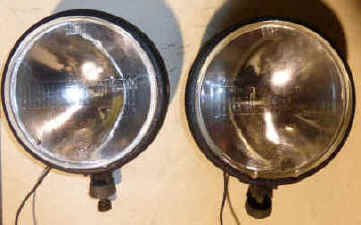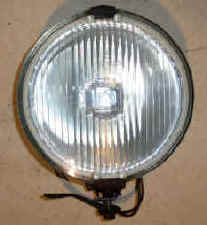 Below right Two mini "Tear drop" 2.3/4 inch with LED SIDE light and Halogen MAIN light. Brass body
Below left KC Day lighters 6.1/2 inch sealed beam rubber cushion mounts all black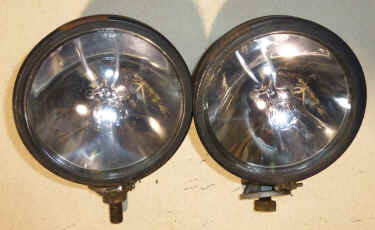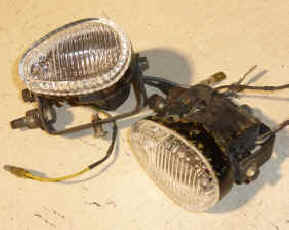 Below left Two Ring rectangular 7 inch spot lights with guards
Below right Two Ring rectangular 7 inch spot lights no guards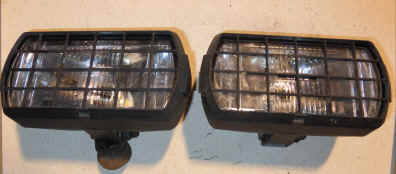 Below left Rectangular Lucas & Lucas 20.20 6 inch spot lights
Below right Lucas 7 inch fog light all chrome ex Rover P4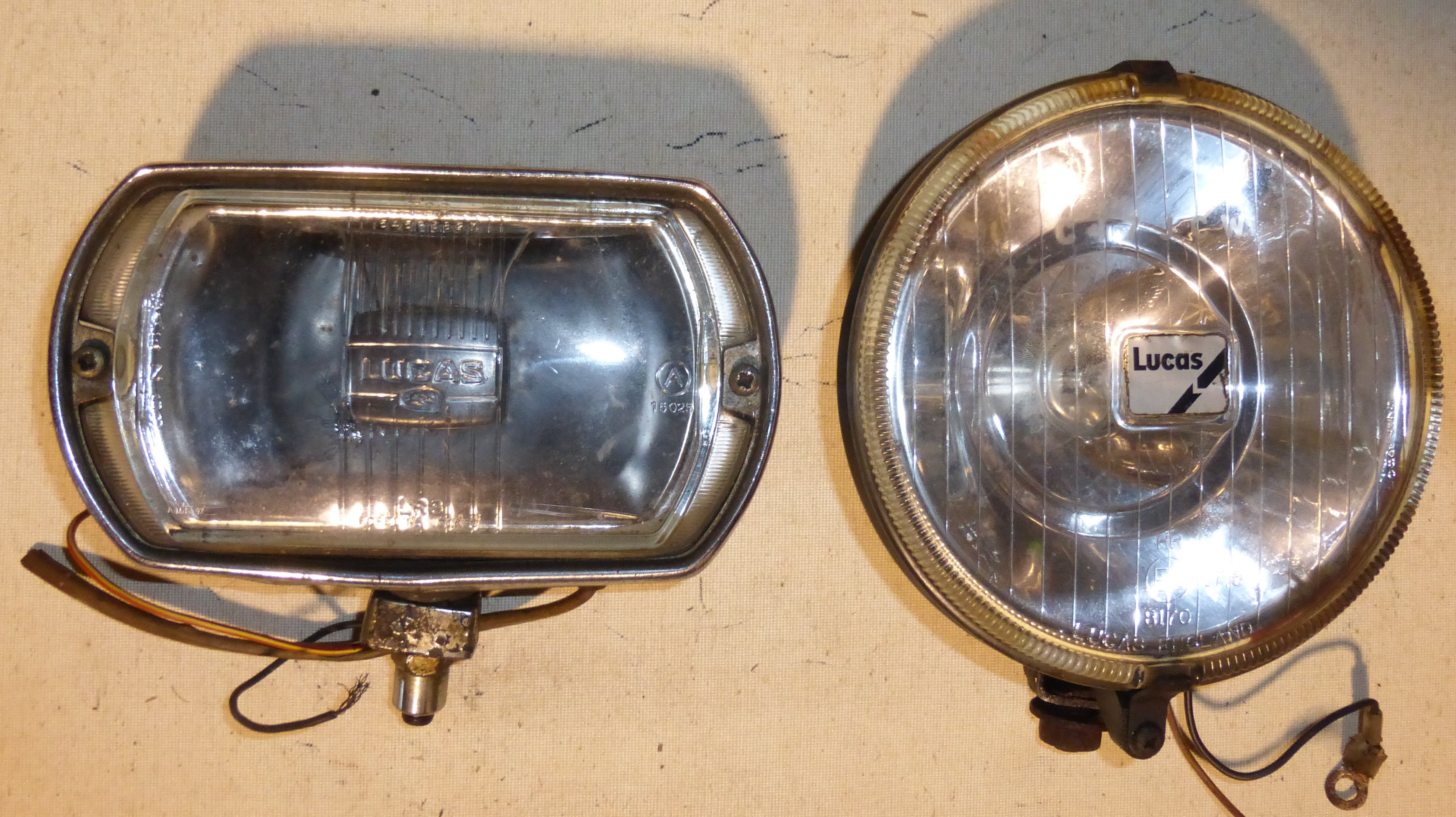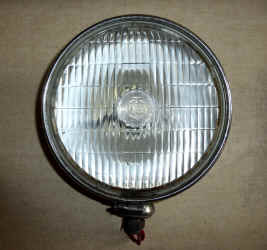 Below Pair Bosch Halogen 7 "x 4" flood / fog lights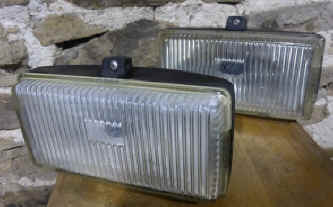 *Above* £250 For all 24 lights*
Below Hot Rod ,Rare Vintage car, Commercial . Old headlight's / spot light's base mount's (pair) round brace
bar or tube fitting all bolts and tube remnants remove easy, Heavy brass with useable chrome. £150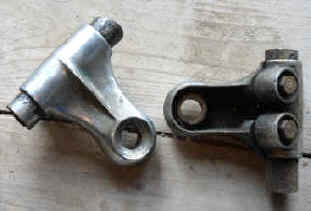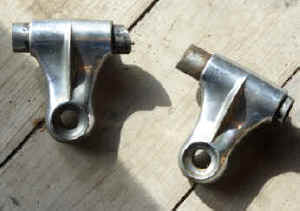 Below right Francis Fire & Rescue 12 volt emergency vehicle siren with light, Unbelievably loud !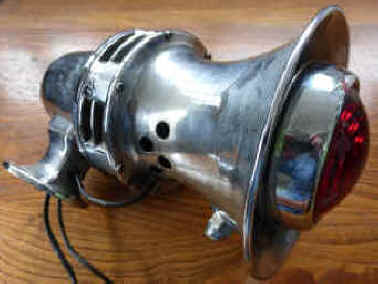 Above left Francis Fire & Rescue 12 volt Siren, MOD & Emergency vehicles/ Boats. Ear-splitting can be heard for miles.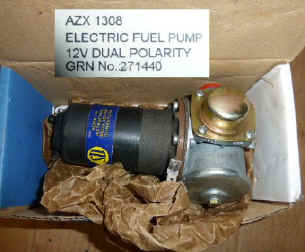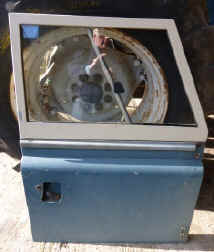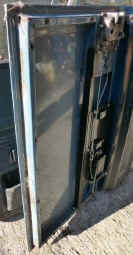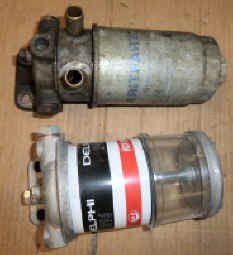 Above left Daimler Hemi V8 ( MK 11) NOS fuel pump. £60
Above Centre PAIR Original Early Pre Defender Landrover doors Marine blue
NO ROT with trims and tinted /alloy tops exceptional original condition £750
Above right LR diesel water heated Sandwich fuel filter and NOS pre filter with sediment bowl £70
Also other parts
High Ratio Transfer box ex RR classic 3 speed auto.
Santana LT 85 five speed gearbox Disco 1 Transfer box
Plus a SL 35 to LT 77 converted bell housing if required.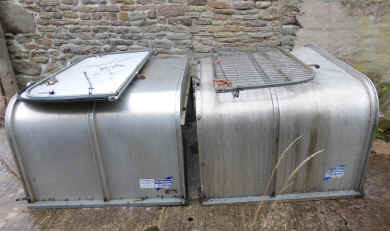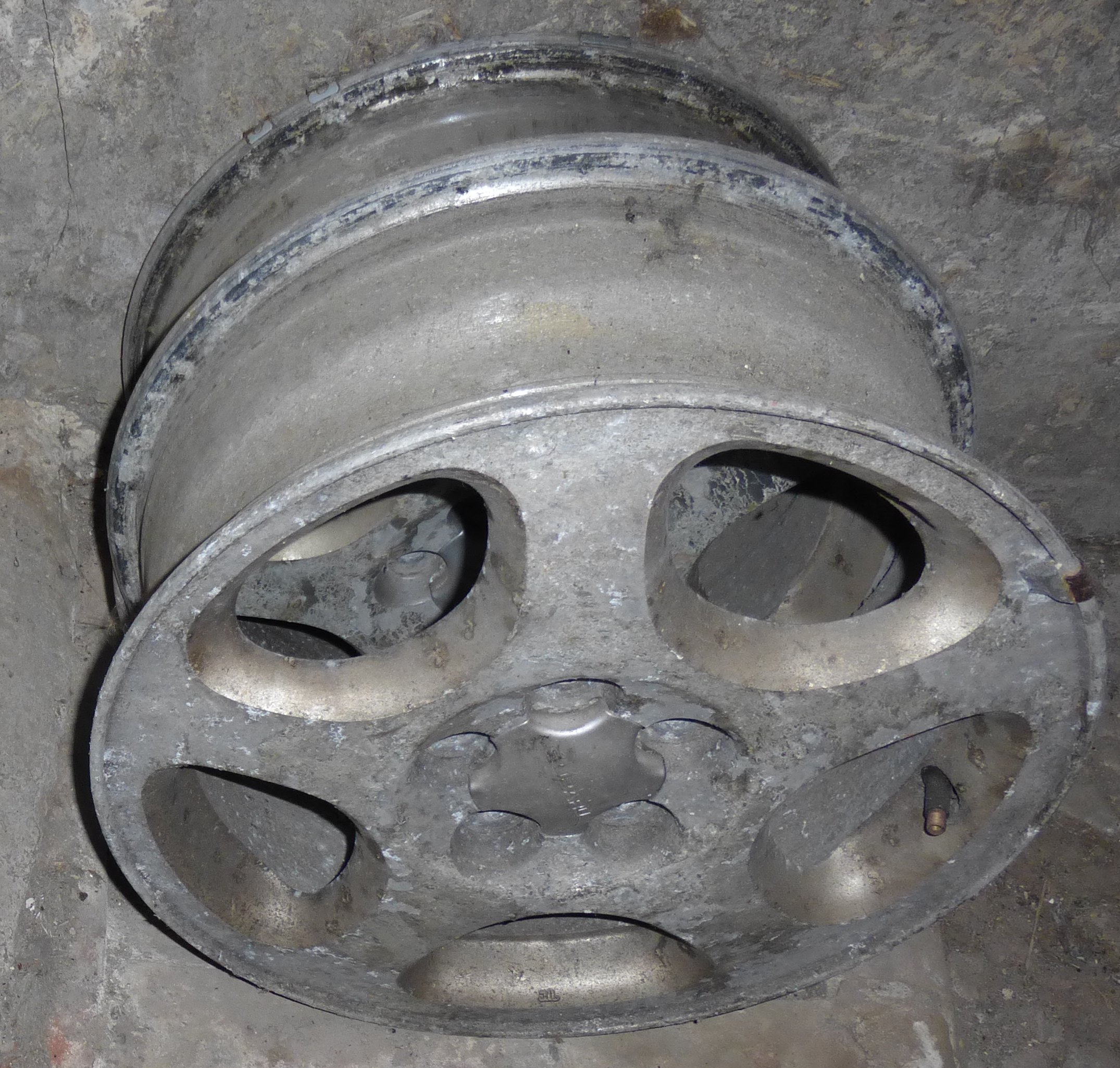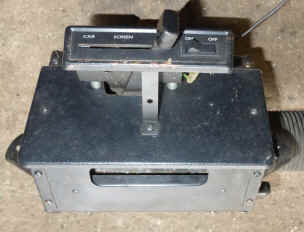 Above left L R 110 double cab rear Iffor canopies with top mesh or sold door. used handy for storing fire logs !
L £65 & R £40
Above Middle Subaru Legacy Outback estate 4 alloy wheels 15 inch in store for years. Offers
Above right BMC Mini heater assembly ideal Custom car conversion. £50
Below Left Warn CE 9000 12 volt winch complete with Plasma rope, roller fairlead, wander lead. and
instruction manual £500
Below Middle Warn M8000 electric Winch. Unused mounted on a used LR OE winch bumper
including " A " frame & spot lights. £550 Offers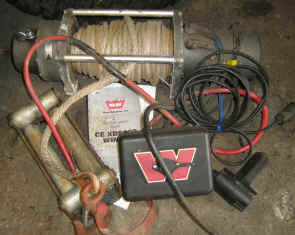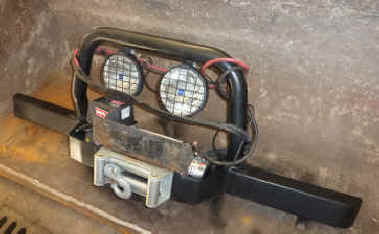 Below left Landrover EX MOD NOS Wheel winch's £175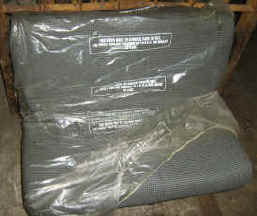 Above Right Landrover 90 Pair used long side steps tubular, no scars. £95
Above middle Defender 110 CSW 60% middle row New Old Stock seat Moorland cloth. £85
Below left Disco 1 Alloy front steering guard used £75 *Also one Defender available.
Middle Disco 1 rear galve tank guard used £45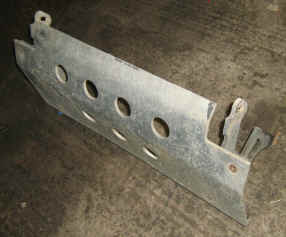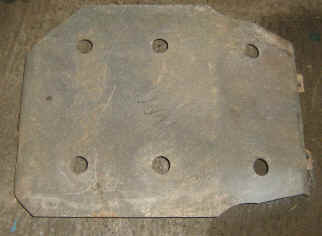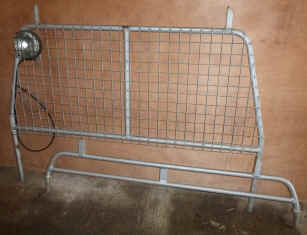 Above Right Land Rover Pickup Custom made Mesh head board / Ladder rack with work light and rear
Ladder rack fits in hoop slots. £185
Landrover Defender truck cab roof untidy/ dented with holes, good rear panel with all windows. £100
Below left New old stock Land Rover Defender push button OS alloy door SKIN with FRAME in original packing £265
Below middle left Landrover NS NOS wing assembly NO side vent or holes £250
Below 2 right Marconi 2 way radio Ex Gas Board Landrover working when removed over 25 yrs ago
Main body inc Mounting Frame , 2 way handset, wiring harness,
In and out speakers plus exterior public address Tannoy Offers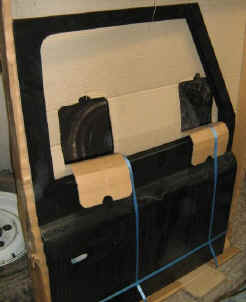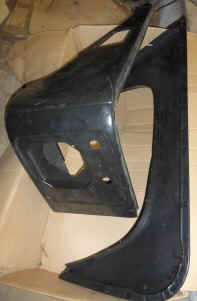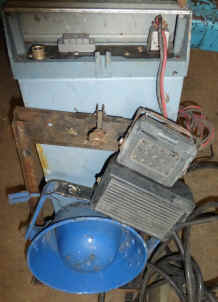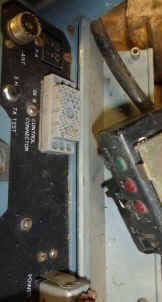 Below left Landrover Defender 90 3/4 tilt including frame, cab channel, crows feet and swivel clips .
Beige PVC now needs a clean due to storage .Was new take off. £285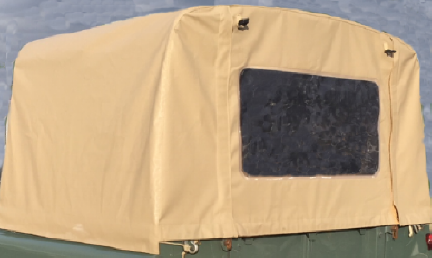 Above right Captains single chair/seat vehicle or boat 180* degree swivel base with slide adjuster
real thing no wobble new old stock, camper / day van /Custom. bought as a pair just used one. £85.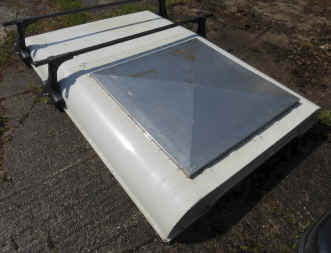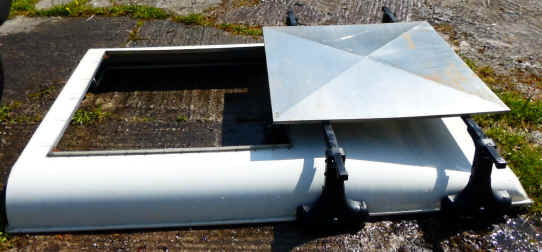 Above Landrover 90 Leisure roof . Removable custom stainless steel hatch , £300
Your own grandstand for Motor and bike racing, Horse events, Clay shoots, Photography, Wildlife Sight seeing
Great for a big dog to get the wind in the face on a hot summers day ! Handy for the bigger parcels
I will swap for a standard roof.
I have a pair of blank side panels, also a pair of Thule roof rails see pic offers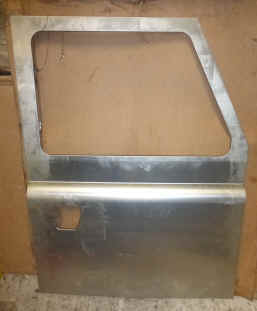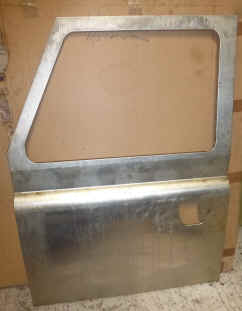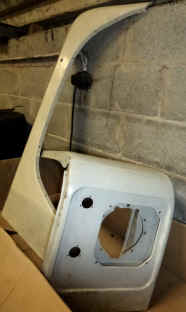 Above left & middle Early Landrover 90/110 NS & OS NOS alloy door skins lift up handle £85 each
Above right Landrover OS NOS wing assembly no side vent early defender side repeater holes. £250
Below left Landrover 90 & Series 88 galvanised roof rack.
will fit 110 /109 part roof. Ladder rollers, rope hooks. Clamp on. £135.
Below Middle Pair of Mayflower wheel winch chocks very heavy duty complete rare now 40 kgs £350
Below right LR Series Sprungflex semi dished 14 " steering wheel with boss £50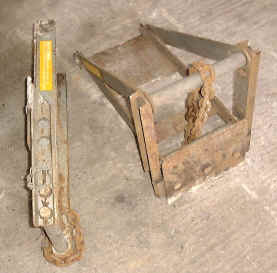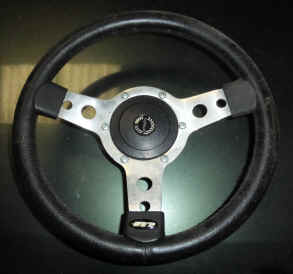 Below Left Alloy Snatch block and nylon rope. £100
Below right Classic Range Rover used fuel tank. £50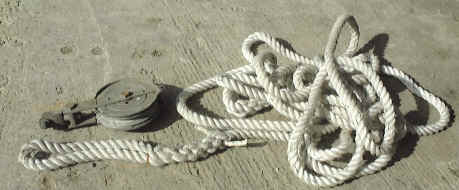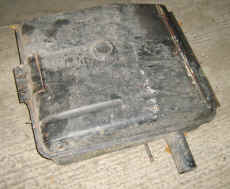 Below left Morris Minor pair NOS door tread plates £10
Below middle Series Landrover two Servo Vac throttle body's £45 each
Below right Early LOW mileage Landrover 110 RHD MANUAL steering box with drop arm
No faults when removed for PAS upgrade. £140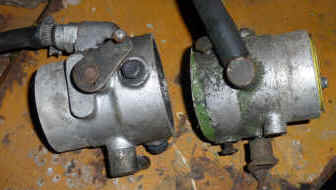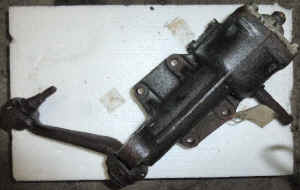 Below left NOS rear trailer /commercial rear lights.
Below middle Rover P5 / Wolseley 6110 ( may fit Austin Sheerline ?
ect used dynamo fitted hydraulic PAS pump, and including a spare pump £125
Below right Austin 1300, Taxi & custom car rear lights £50
Below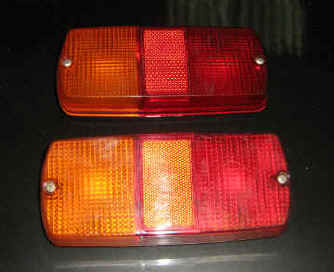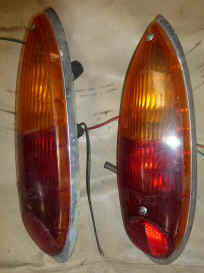 Below Left Scania pair NOS rear lights 20 inch long.
Below right Five NOS Rubberiod side repeater lights.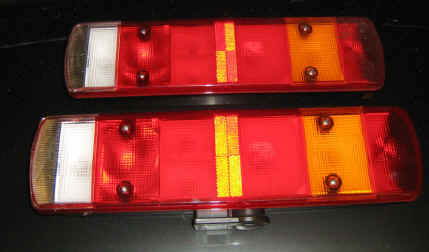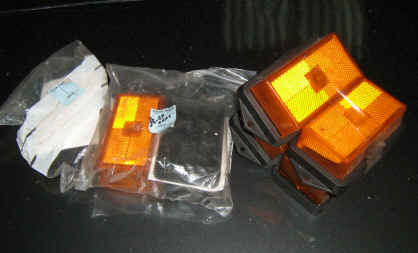 Below left Rover P4 early tool kit and tray. £100
Below middle right Rover P6 battery box with top ,seal and plastic headed bolts. *Last one* £60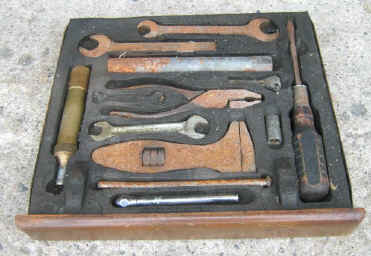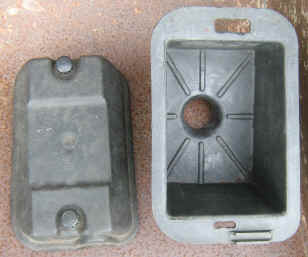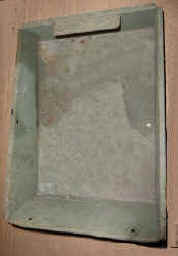 Above far right Landrover Military Series original centre seat box tool tray £50
Below left Landrover High Cap tow hitch NOS with fittings £195.
Below right Rover P6 rear lights with lens's £50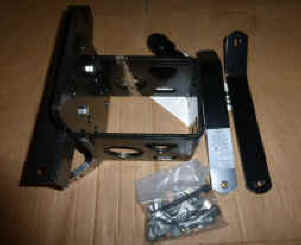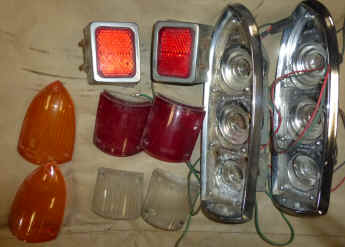 Below left Early Rover P4 hub caps with BRASS Centres x 8 few dings £60 for all eight
Below right Green Goddess, stamped FS. Handled Canvas buckets with rolled canvas handled retrieve ropes £75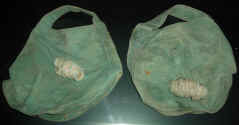 Below right Landrover MOD 11O side lockers jerry can assemblies.
Original doors with frames and catches, main chassis cross member
galve bottom and back supports scruffy but solid. £185
Above Left Landrover Military 110 side locker doors NOS. £120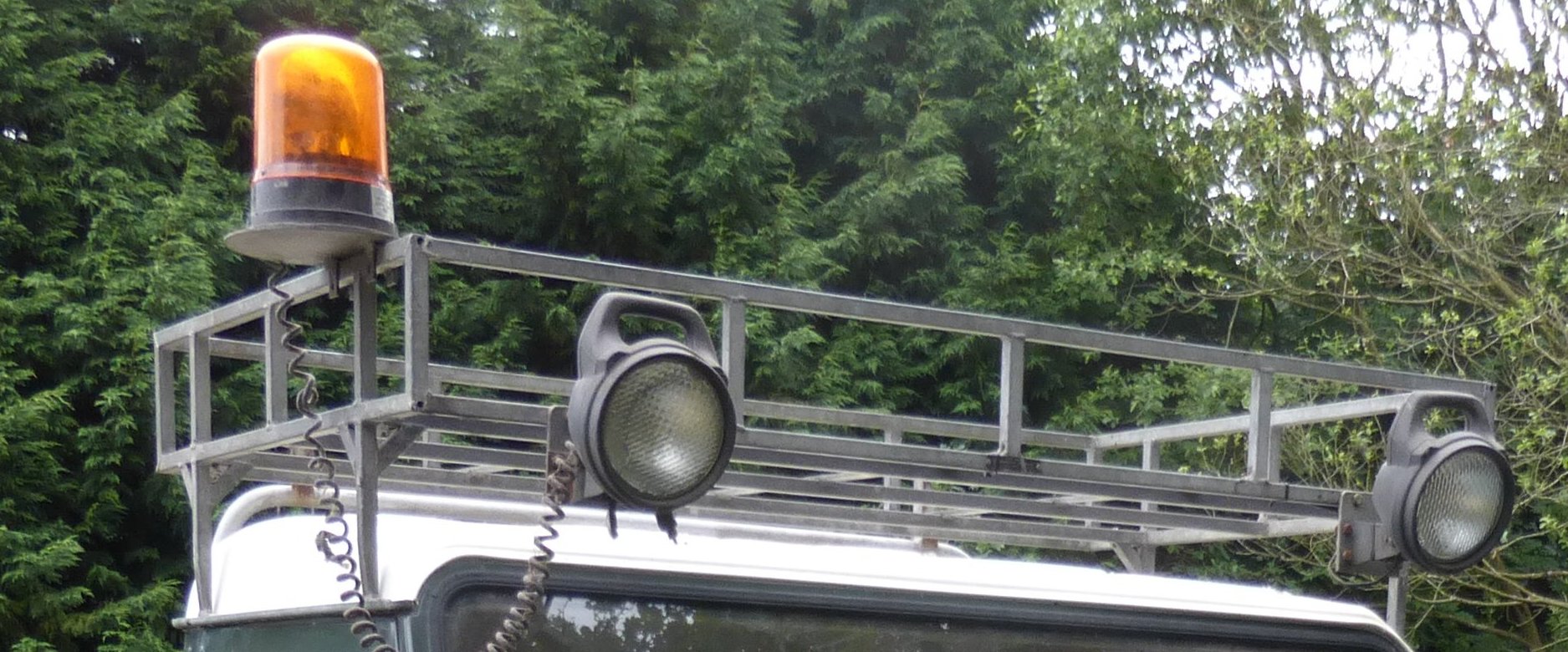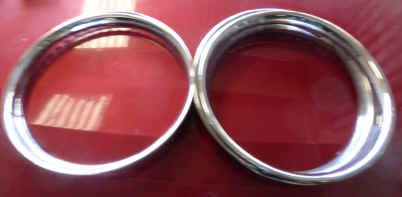 Above left Landrover Truck cab roof rack with lights NO beacon but including removable mount. £175
Above right Rover / Jaguar 15" Rimbellishers. 2 NOS unused. 3 used few small dings good chrome £65 for 5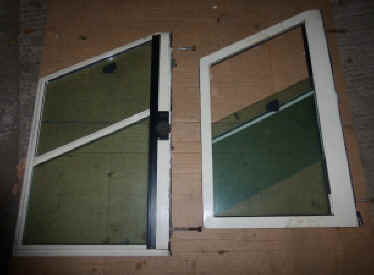 Above left Landrover Pair of early pre Defender alloy door tops tinted glass. £400
Above Right Landrover Series off side ALLOY door top used . £85
Below Left Rover P4 Original washer bottle with a good top. £45
Below right Series Landrover extended glass fibre front panel complete with Defender grill and
two LR bages one on top plus grill. Good for electric fans oil cooler and accessories. Taken off 25 years ago. £85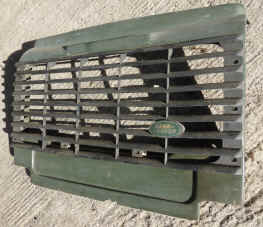 Below right Below right Rover P4 hub caps plastic centres few kerb dings , look OK from a distance ! £ 45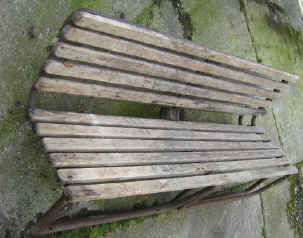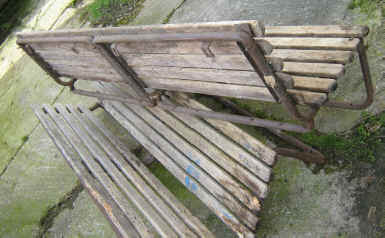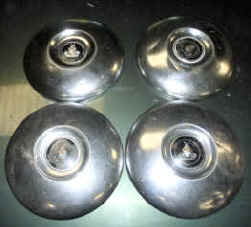 Above Landrover Double cab 127/130 for high capacity pickup body a PAIR of rear slatted bench seats & frames,
used for shooting parties, work crew or troops will seat up to eight. Including mounts. Rare original Landrover part
Some slat damage due to long term storage could benefit from a rub down and paint £185
Below left & middle Range Rover Classic 2 door side glass tinted NOS including a used top tailgate glass.
Two quarter lights, One side rear window. Two large side back windows. OFFERS
Below right Landrover 2.25 Diesel engine complete with starter, Twin pulley alternator for PAS pump,
plus belt driven Vac pump. was in a early RR conversion removed 30 years ago. £275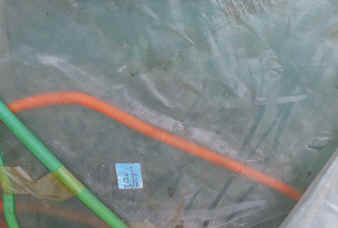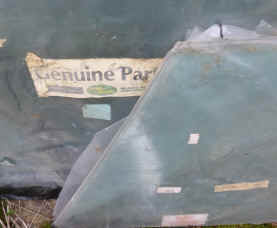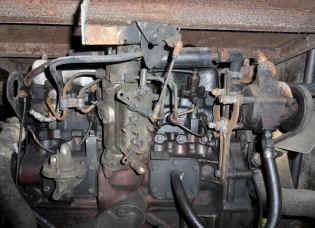 Below Landrover rear hard top "Cat Flap" with hinges ,Clamp knobs ,support brackets ect.
As removed 15 years ago, quick paint with primer
to show condition better Far Right price includes another but damaged & rusty for spares £200 BOTH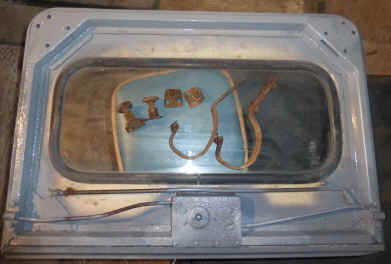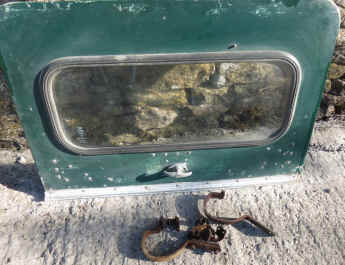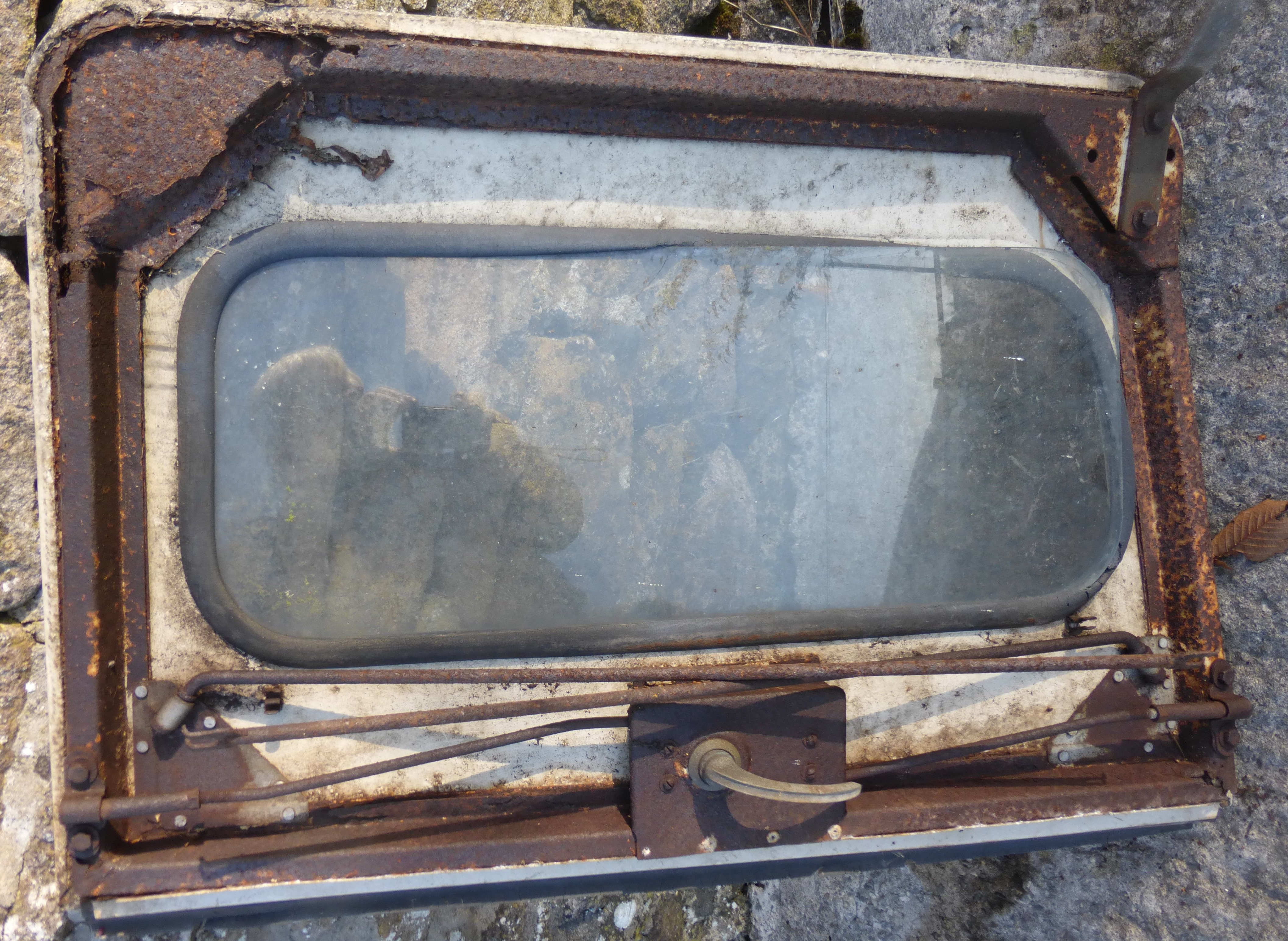 Below left Landrover Double cab back seats head restraints , techno cloth. £85
Below Right LR CSW centre Six moorland seats only no frames. £75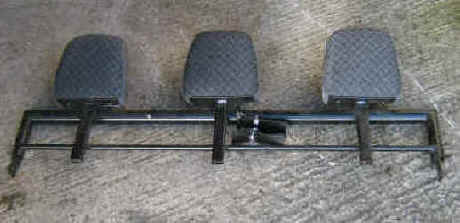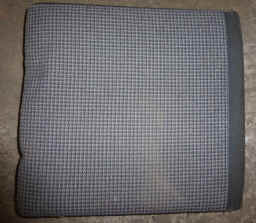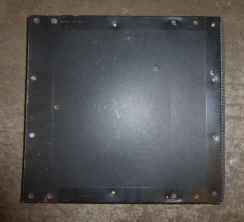 Below left Early Landrover seat base's dark green £45
Below right Centre seat with belt & mounts £45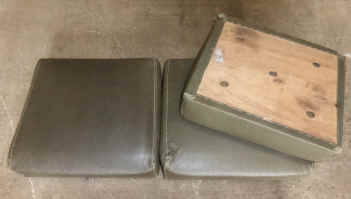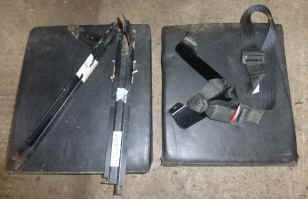 Below left Landrover 90/110 full tilt header rail with clamps & instructions NOS £100
Below Right Land Rover NOS Front and rear bumperetts £135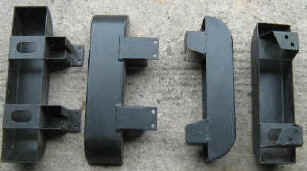 Below left Defender Landrover light guard set used inc plastic clips.
Below right. Rear galve bumperettes. NOS.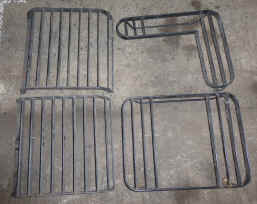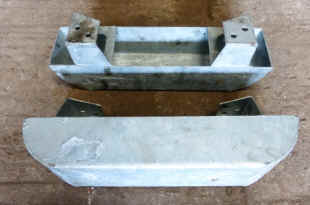 Below left Landrover Galvanised light guards.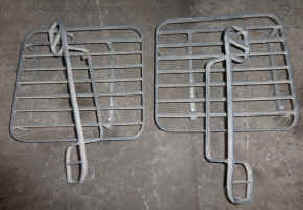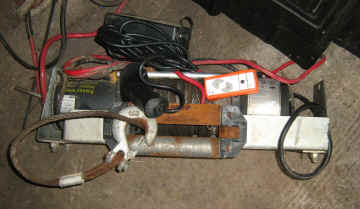 Above right 12Volt electric winch wander lead, remote & roller fairlead. Disco cradle. 5909Kg £285
* Below Landrover Wheels & tyres *
Below left Left 2 tyres only New old stock Continental Condor 750x16 Radial sand tyres £150 pair
Below Middle One only NOS ex display Marshal 235.85x16 Radial on steel modular chrome rim £65
Below right 5 Sawtooth Fitted Roadian MT 235.85 x16 on four spare no tyre.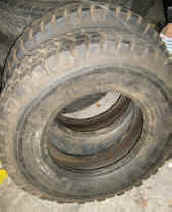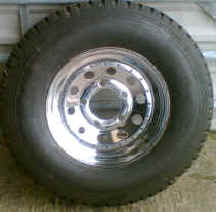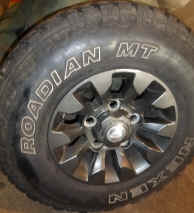 Below left 5. Latitude "Cross" Isometric 750 x16 tubeless all unused new "take offs"
on latest tubeless standard steel rims £575
Below right Landrover wheel spacers 4 £55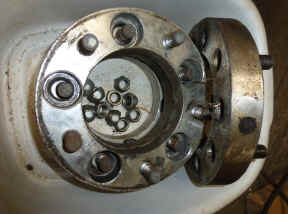 Below right 4 Landrover Defender Stud to P38. Wheel spacer & stud converters with all nuts
Below left & middle 5 Range Rover P38 Hurricane alloy wheels 18 inch with near new Michelin latitude isometric
255.55 x18 tyres.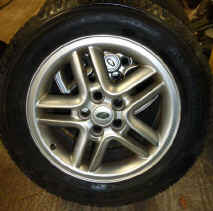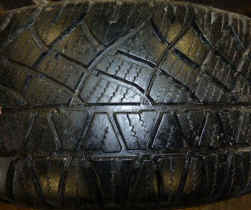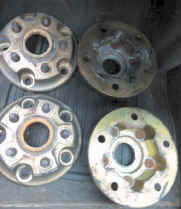 Below left Isuzu Rodeo alloys 4 believed to fit most 16 inch Jap and USA SIX studs
including usable tyres £250
Below Middle 4 Modular steel wheels with 265.75x16 Insa Turbo tyres 2 as new tread 2 half worn. £250
Below right 5 Michelin 750x16 XS Sand tyres on Landrover 130 Deep dish steel wheels £875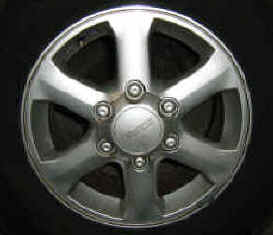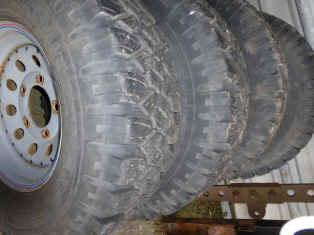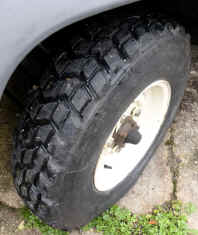 USED Wheels and tyres in sets stated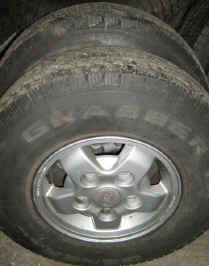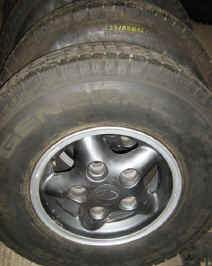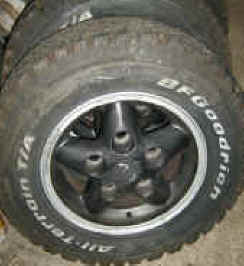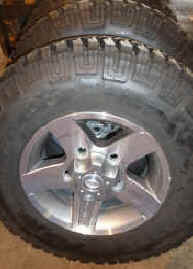 ALL ALLOYS INCLUDE OE SS nuts
Left above 5 235.85x16 General Grabber with Castor alloys £525
Above 2nd 5 235.85x16 General Grabber Freestyle ES alloys new tyres. £575
Above 3th 4 BFG 5.235.70X16 Free style black alloys near new tyres £ 550
Above 4th 5 Wrangler 235.85x16 on superb SVX Alloys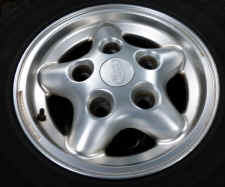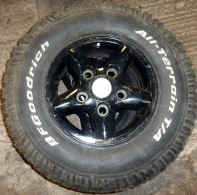 Above right 4 Near new BFG 235.85X16 90/110/ Classic RR/ Disco 1 On Alloy Rhino after market rims
Left Above 5 Chrome and black Steel modular rims with General Grabber 225.75x16 tyres
used but good condition. £425
Above middle 4 Landrover Freestyle alloy's x 4 with Goodyear Wrangler 235.75x16 tyres
NO kerb or blister damage, condition is outstanding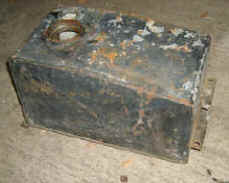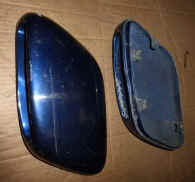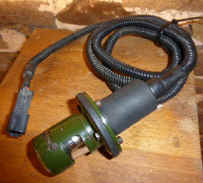 Above left Landrover Lightweight original ns fuel tank couple of pin holes
I have seen them used as secure under seat tool / storage box's with the top cut out.
including filler tube & cap £45
Above middle Pair of bonnet vents fibreglass ex Subaru.
Above right Wolf convoy light FV 534864 23 volt bulb sheath 6ft cable with plug later type ,black out swivel cap,
also used as marker & No plate light NOS some storage marks £35
*** MILITARY WOLF WMIK SNATCH PARTS BELOW ***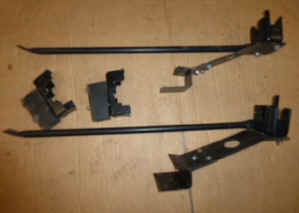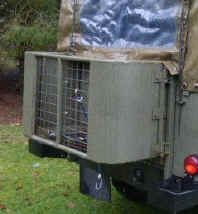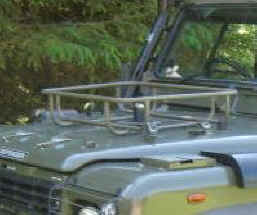 Above right Wolf / WMIK bonnet basket £350
Above middle WMIK rear pannier tailgate with all fittings & ratchet straps £650
Above Left Pair MOD LR Rifle mount racks £45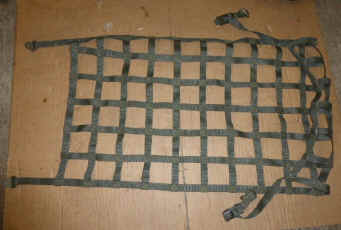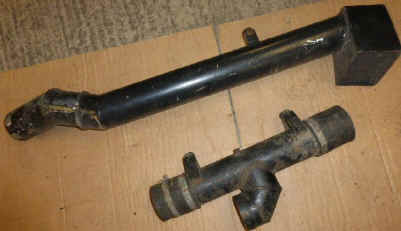 Above right LR V8 Big bore Raised air intake Stainless Steel
Above left LR Series Pinky / Desert ? NOS tailgate cargo net fit any drop tailgate, not HCap. £125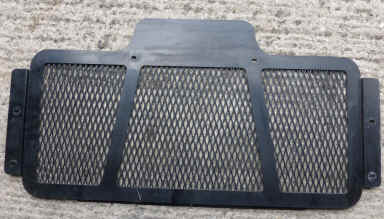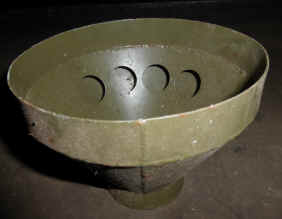 Above left Wolf Donaldson deep wade pre air cleaner including a spare top cover NOS. £75
Above middle Wolf WMIK steel grill £90
Above right Wolf wading top snorkel anti splash cone £85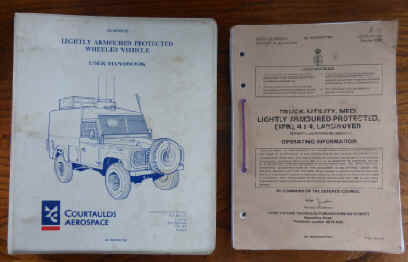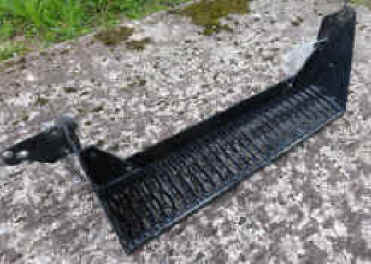 Above Landrover V8 Snatch handbooks. £50 each
Above right Landrover Snatch "heavy duty" full rear step with brackets, bolts and spring. £185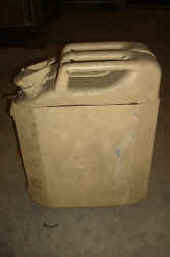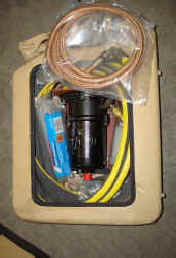 Above right Wolf Spafax 24 v heated mirrors.

Above left & centre

1st Gulf War 1989/90 Military new old stock smoke discharger

disguised as a Jerry can. Own a very rare bit of Army history kit

This was designed to pump fuel/oil into a AFV exhaust to generate a smoke screen.

for your Military vehicle. Complete with fittings and instructions. offers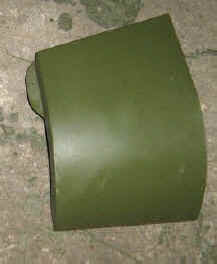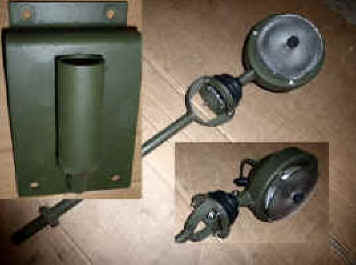 Above left Wolf wiper motor 24 volt intermittent park fault £175
Above middle Wolf WMIK *OFF SIDE* & NEAR SIDE steel snow / debris guard. Fits standard LRs
Can be used as spot light & mag mount NOS £55
Above Far right Wolf aerial stalk & base mount with Francis flood / searchlight, removable lens diffuser £195
Below middle Landrover Wolf 110 roof frame parts including spare wheel side mount & rubber seals. £150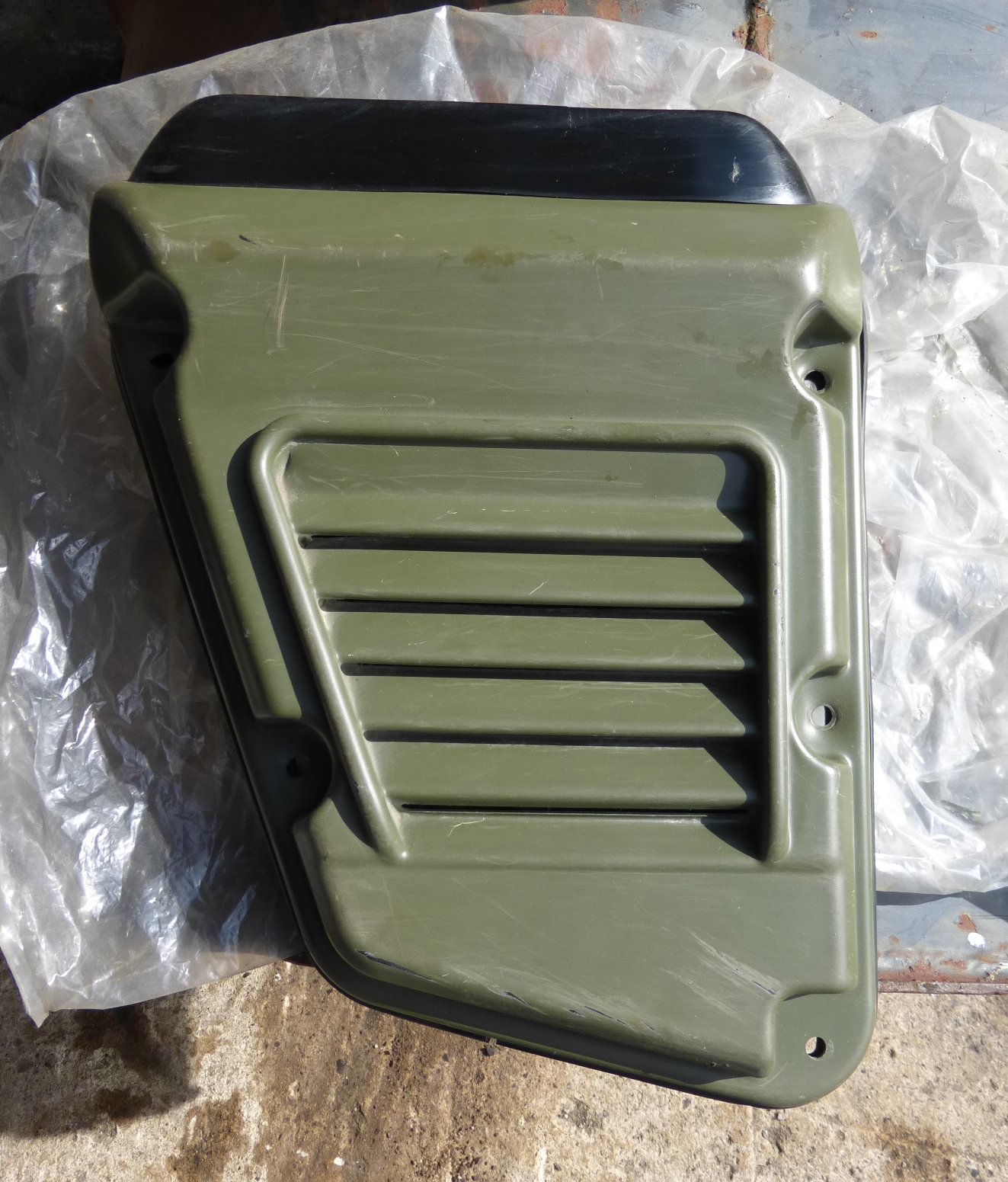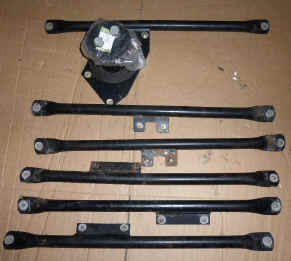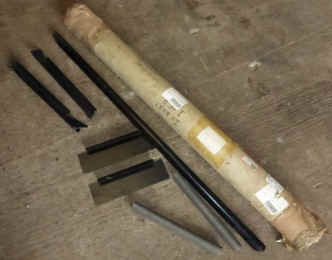 Above left. Wolf WMIK Rare near side filter complete with seal. £135
Above right Diagonal bar kit for roll hoop NOS £85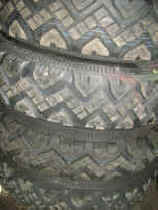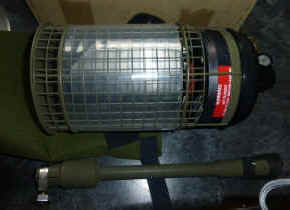 Above Left & centre 4. 750x16 Radial G90 on Wolf steel wheels Coniston green paint. £450
Above right MOD NOS TIB Thermal Identification Beacon original box with stalk instructions & all weather cover. £150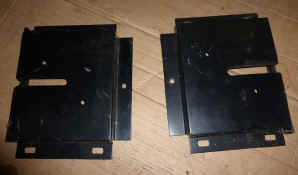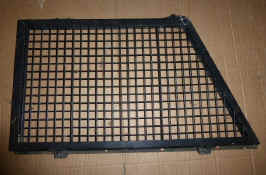 Above right Landrover Snatch os door top mesh used. £55
Above left Military Wing top Aerial mounts NOS £75 pair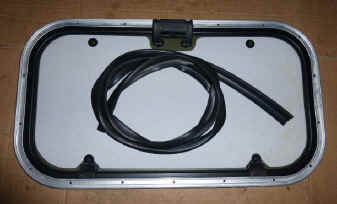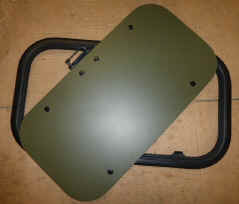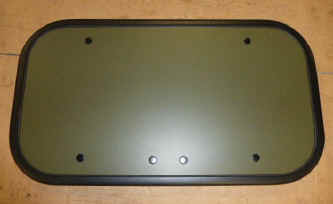 Above Military escape hatch NOS original box. £395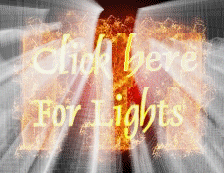 Disclaimer: Every effort has been made to ensure the accuracy of the above information but errors may occur.
Please ask if not sure.
* emails received with no subject details are automatically deleted *
07733 218822