*ODDS AND SODDS SECTION*
Disclaimer: Every effort has been made to ensure the accuracy of all the information but errors may occur
07733 218822
* Last page link at the bottom of this page *
Below Left Car mascot Desmo eagle on ball. Chrome on brass mounted on marble. £135
Below middle Very rare Gorilla mascot chrome on brass. £250
Below right Brass Eagle mascot. £65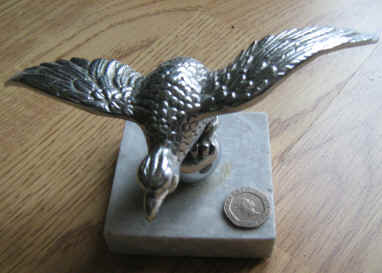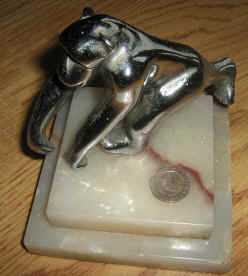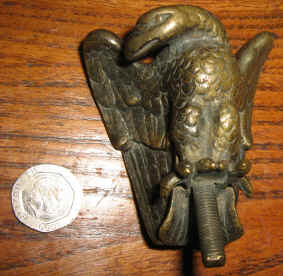 Below left Modern Glass and alloy table 471/2" L 23 3/4" W 17 D" bought for the steamer trunk £35
Below Right Vintage Steamer / Rail Trunk RAF satin blue 13 1/2" D 21 "W 36" L £45
we now need the room.
Below L&M Odd Ebonised Stool / plant stand. centre screw adjustable top with grab holes
Fitz & Floyd Plant vase just for display not for sale £150
Below right Superb flame mahogany tilt top side table, four foot ebonised pedestal very stable
31 1/2" x 20" top 24 " Height in use £265
Below L&C Antique Centre screw adjustable Cello chair, Walnut with Brass claw and glass ball feet £1250
Below right Antique Ladder back low arm rocking chair with original Rush seat straight top "lean on rail"
originally from Norfolk . Offers
Below Pair of Antique style brass pendant lights with Holophane glass shades,
modern cable and standard BC bulb fittings. Lower ornate cradle could be removed
8 inch hanging chains, can be fitted with Antique style Squirrel cage bulbs "See below " £160
Below left Pre WW11 Guards riding boots dated 1936 leather size 7 "horse shoe" steel heels. mine since
1970's not worn for over 45 years. Offers
Below Right Steel columns H 91" W 6".with cast collars. Steel base & head mounts. £425 Pair offers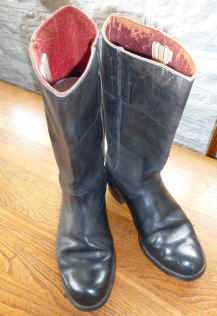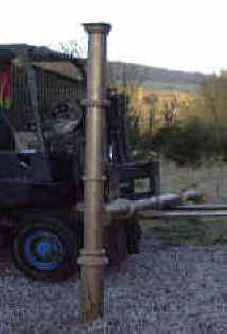 Below Left Antique pump action fire extinguisher ,brass body, works with water OK. £145
Below Middle Antique Haslam of Tonge, Bolton working pump action fire extinguisher
unusual brass fittings with original data plates
riveted steel body, missing hose, would make an interesting light. £195
Beech mounting blocks available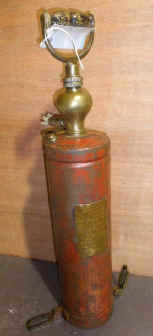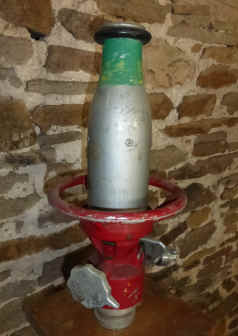 Above Right Ex fire service hose Foam nozzle ( light base ? ) £75
Below right Nauticalia of London Antique Brass Boat wheel 18.5 inch at max.
Key shaft was to be a ceiling light £85.
Above Left Collection of seven "Mills Munitions" (makers of the original Mills hand grenade)
shooting / walking sticks rare in this condition, including one more pre 1st WW
not shown all complete with discs. Collected over many years.
Below Ridgegear RGA4 Inertia fall Arrest block with retrieve handle unused condition £100
Two right 14 & 15 Metre without retrieve handles but with giant Karabiners £95 each
Below Left Bucket Stirrup pump Brass/ steel hand pump marked "ER" WW11 was new unused old stock
when I got it over 20 years ago £50
Below Two Right Unusual Mahogany British Rail packing transport box's I have two 16"x16.1/2"x 18"
and 1" thick, heavy. Dove joints, side handles brass hinged dated 1960 to transport Francis lights.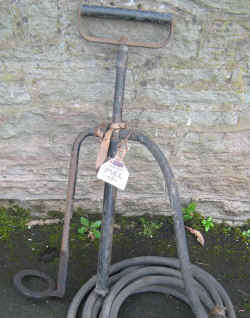 Below two left Military Pine searchlight transport box's. steel edged , over centre catches' 23.1/2" x 20" x 17" I have four .
Below two right Ex Military Pine cable transport box's steel edged. Over centre catche's. I have two. 17"x 22" x 18".
Below left NOS Tractor PTO shaft £100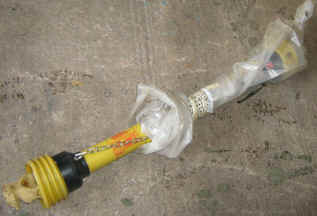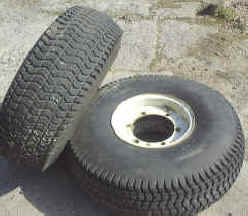 Above right Bridgestone Two USED 6 stud rims with 13.6 x16 low pressure grass tyres
Ex 87 Ford (4x4 axle) £300
Disclaimer: Every effort has been made to ensure the accuracy of all the information but errors may occur
07733 218822