ODDS AND SODDS SECTION
Disclaimer: Every effort has been made to ensure the accuracy of all the information but errors may occur
07733 218822
* Last page link at the bottom of page *
All stuff the family have collected over many years time to clear. Offers considered on " lots "
BELOW Pair of Czechoslovakian Majolica floor vase or Stick stands 22 & 24 inch some restoration
required, rescued in the early 1950's and converted to table lamps OFFERS
Below right GOEBEL MUTE SWAN HOLLOW PORCELAIN VERY DETAILED ONE OF 1K WORLD WIDE.
WITH ORIGINAL PACKING BOX AND NUMBERED CERTIFICATE. OFFERS We have two !
Below left Flamboyance of five Flamingos Hollow porcelain 13inch some impressed marks and numbers make unknown.
Let me know if you can help.
Below Left Car mascot Desmo eagle on ball. Chrome on brass mounted on marble. £135
Below middle Very rare Gorilla mascot chrome on brass. £250
Below right Brass Eagle mascot. £65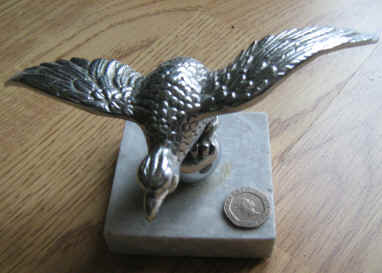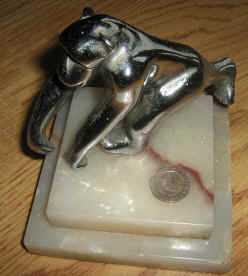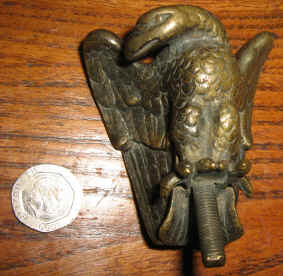 UK ONLY NO EXPORT
Below left Four pieces of "hammered" finish pewter. Art Deco Handled strawberry Bowl "Civic"2358, 8.3/4 inch max
& matching Sugar shaker "Civic"3018, 5.1/2 inch tall, both stamped made in England. Cream & sugar "Argent" both
stamped 1178 English made. Nice set. £45.
Below right Vintage Fitz & Floyd Alligator planter *VERY RARE* Stamped FF 1986 BIG 24" long 9" wide .
Below left Pre WW11 Guards riding boots dated 1936 leather size 7 "horse shoe" steel heels. mine since
1970's not worn for over 45 years. No I have not had them from new & I don't have smelly feet !
Below right Sky diving boots leather not used since I leapt out of a plane in the 1980's re enforces ankles
as new commando soles. Size 7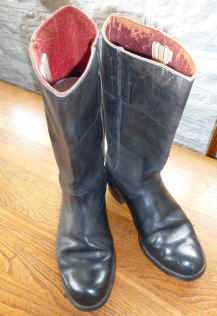 Below Left Antique pump action fire extinguisher ,brass body, works with water OK. £125
Below Middle Antique Haslam of Tonge, Bolton working pump action fire extinguisher
interesting brass fittings with
riveted steel body, missing hose, would make an interesting light. £95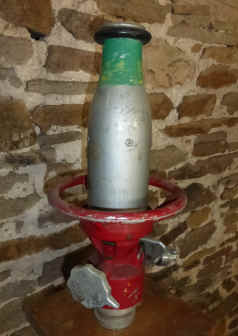 Above Right Ex fire service hose Foam nozzle ( was going to be a light base ) £60
Below Far right Nauticalia of London Antique Brass Boat wheel 18.5 inch at max key shaft . £85.
Above Middle Collection of seven "Mills Munitions" (makers of the original Mills hand grenade)
shooting / walking sticks rare in this condition, including one more pre 1st WW
not shown all complete with discs. Collected over many years.
UK ONLY NO EXPORT
Below Ridgegear RGA4 Inertia fall Arrest block with retrieve handle unused condition £100
Below Left Bucket Stirrup pump Brass/ steel hand pump marked "ER" WW11 was new unused old stock
when I got it over 20 years ago £50
Below Two Right Unusual Mahogany British Rail packing transport box's I have two 16"x16.1/2"x 18"
and 1" thick, heavy. Dove joints, side handles brass hinged dated 1960 to transport Francis lights.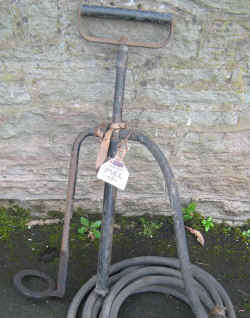 Below two left Military Pine searchlight transport box's. steel edged. 23.1/2" x 20" x 17" I have four .
Below two right Ex Military Pine cable transport box`s steel edged. I have two. 17"x 22" x 18".
Below right Antique chairs one child's Winsor and one ladder backed rocker with rush seat & straight top rail,
same family for 100 years.
Below Centre Cello / Harp adjustable chair, Mahogany with original metal screw.
bronze claw and glass ball feet. £1250
Above left Mahogany revolving book case .£585
Below Right* Heavy Mahogany Tilt table table. £475
Above Left Mahogany Dutch peat bucket / plant pot ,brass insert and handle. £1250
Above middle Rail / Ship travel trunk RAF satin blue grey, 21"X 37" £85.
07733 218822