NOTE* emails received with no subject details are automatically deleted

Disclaimer: Every effort has been made to ensure the accuracy of all the information but errors may occur
07733 218822
Updated 21.09.2018 ( 146 )
*I DO NOT SUPPLY BULBS OR PARTS*
SEARCHLIGHTS NAUTICAL VINTAGE
RARE FALKLANDS VETERAN LIGHTS
Searchlights are my hobby
OFFERS & DEALS CONSIDERED
Some lights can be sold without tripods or mounts
Wanted Used / New Spares inc mirrors ,old cradles & mounts.
All my lights & tripods (unless stated) are original industrial / MOD used items with
real history of age & use in their condition this cannot be replicated.
Wanted Elliott medium level Military / Fire tripods.
*NEXT PAGE LINK AT BOTTOM OF PAGE*
DEPENDING ON CRADLE LIGHTS CAN BE CONVERTED TO
Pendant / Ceiling / Hanging / Facade or Up lighters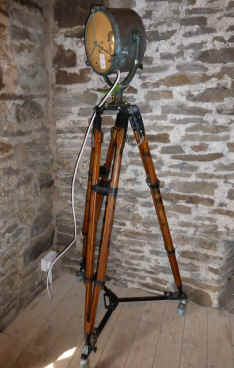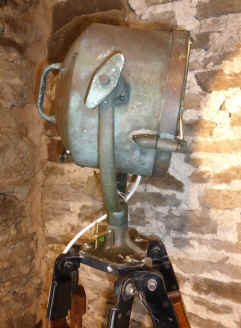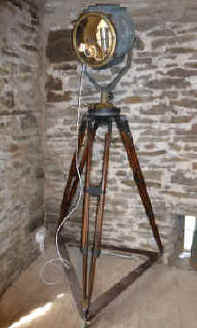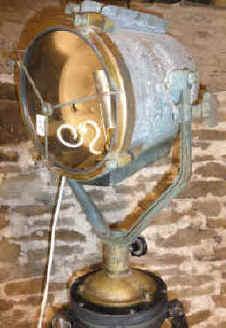 027 Above two RIGHT Francis M17 Marine searchlight 300mm. Toughened front lens. External natural "Verdi Gris" patina brass unpolished could not be replicated showing many years at sea ,inc original base plinth. Glass lead backed parabolic mirror some salt discolouration, I can change for flat display ,Working order with Internals re built fitted 75 watt touchable halogen 230 volt bulb, real piece of marine art mounted on a rare original WW1 studio film era tripod .
Great feature light. £1675 I can include a dimmer socket.
019 Above two LEFT London electric company,11 inch Marine light 1964 natural patina all brass inc base mount. Bevel edged glass flat mirror for ornamental, standard light use. ( I have the original discoloured mirror ) Working order bs 60 watt bulb 230 volts, restored internals. Mounted on a nice rare original pre WW. Vinton of London studio tripod with anti splay chains and rubber feet. Standing 7ft in picture, will raise another 10 inch approx. I have left the light in "as found" Verdi Gris external condition showing it's history could not be replicated. Including Konig dolly. £1575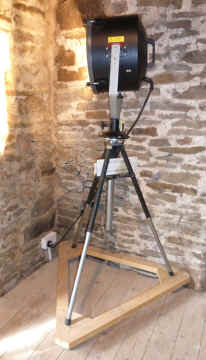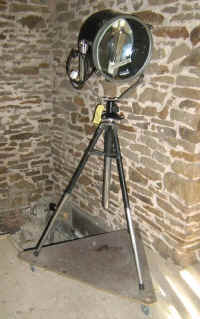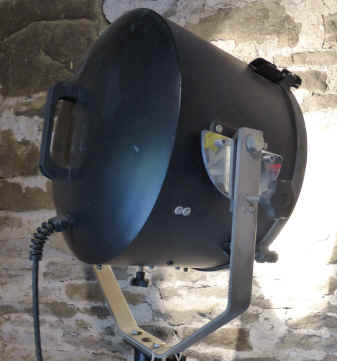 035 Above Francis Searchlight 380mm (15 inch )with glass parabolic mirror. satin black over brass,
NOS condition. 300 or 1000 watt tube bulb with GES fitting ( I have ES adapters for lower watt bulbs ) 240 volt,
mounted on a vintage industrial black & chrome tripod. Fantastic bright working or feature light.
Ideal shop display, Garden / hotel. Facade up lighter, Less without tripod £1350
Can be converted to Ceiling / Hanging bare in mind weight.
Note:- Above dolly's just for display use not included
082 Below two left Francis 13 inch, armoured glass front lens & original alloy parabolic mirror, all brass mounted on a
superb and rare vintage oak tripod with brass fittings & mechanical multifunctional tilt & pan head. Light has re built
internals, re wired and fitted domestic 230 volt ES crown top silver bulb with in line switch & dimmer socket. £1850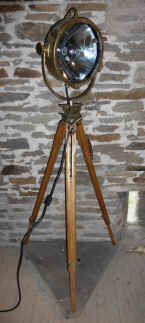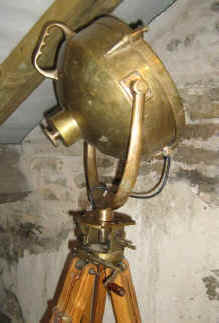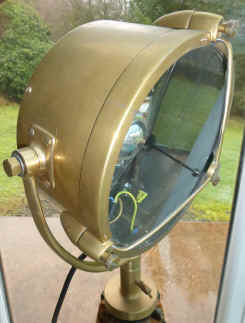 003 Above right two Francis brass 11 inch searchlight.
Glass Parabolic mirror ( I can change for bevel edged flat ) Mounted on a
Vintage "Leopold & Voepel" of Portland Oregon cherry wood and brass tripod ,
Standing at 6ft 6inch, Both in Superb condition. Fitted 240 volt 100 watt ES bulb & dimmer socket
Still has the original spike end reversible legs with rubber ferrules. Fantastic, office or
domestic display feature light . £1575. I can include the modern "Glide gear" dolly for easy movement.
135 Below Left Francis 11inch Ex Canal boat *Note anti theft bolt under base mount. Halogen bulb. £450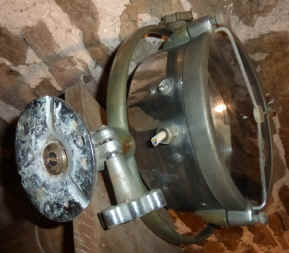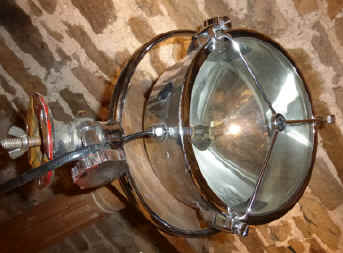 136 Above right Francis 11inch ex canal boat *Note anti theft wing nut under base mount
12 Volt bulb. Alloy reflector. nice chrome , including base mount £550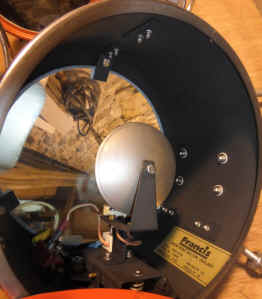 080 Above Francis Searchlights Ex Fire service. 2 X 11 inch & 2 X 9 inch all original perfect parabolic mirrors, toughened
glass lens, matching base's. ( Can be sold without base mounts ) Red lens rims could be painted to match Vehicle, boat or
stripped back to brass. Halogen 2 pin fitting .12/24/230 volt also 12 volt LED Corn bulb. Some signs of service. 3 core cable
with earth for all voltage. Can be sold as as set of four, Or split £2500 Set as in picture consider offer.
140 Below Matching set of Francis SB13 inch Ex MOD Searchlights.
Hard wood and brass tripods direct from the Military original as cast condition
All fitted 240 crown top silver bulbs es fitting with Adjustable focus,
All have oak & alloy spigot adapters with karabiners for wall tethering.
Original alloy reflectors. I will sell as a set or individually. £1650 each offers for the set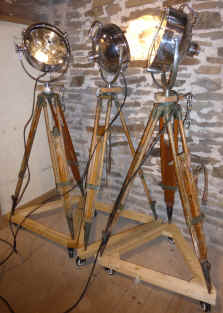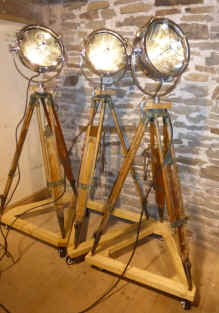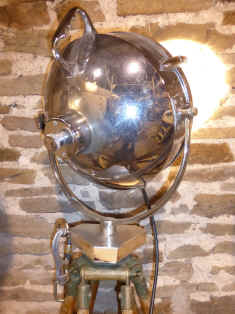 Note:- Above dolly's just for display use not included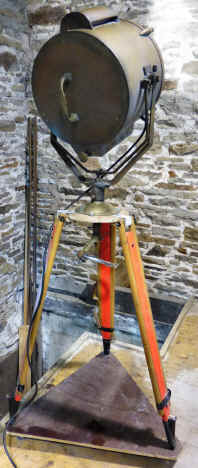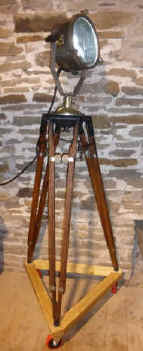 139 Above far right Francis FR 11inch stamped by Francis "Special"
Modern Cool bright white LED light bright but with no heat
D12 fitting 230 Volt Antique brass finish. Brass barrel & cast brass base mount.
Stainless steel cradle & Base mount Allan cap head locking bolt. Front lens can be changed for clear or etched glass.
Mounted on a rare WW1 Cinema photography modified tripod. Would split. £1600
122 Above Francis Marine 15 inch Cabin operation complete functioning mechanism with
internal cabin handle, brass, bronze . Original patina. Big heavy light
240 Volt 300 watt GES. ES reducer available. Cracked parabolic mirror still serviceable ,
I can swap for flat bevel edge. £1350
*Note Above 3 Left Modified Tripod and dolly just for display not included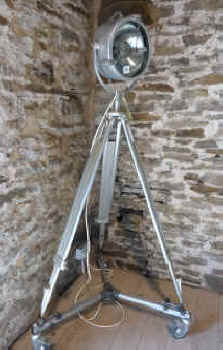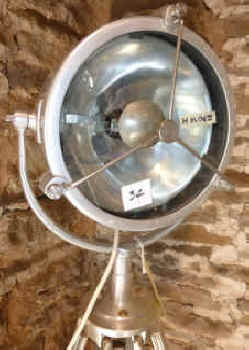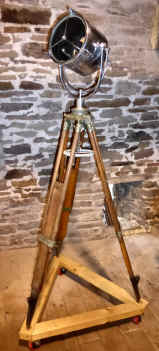 034 Above left 2 Very rare all alloy satin finish 11 inch searchlight looks like a Francis. Believed to have been
a prototype by a rival company. Cradle, mount and mirror all alloy
230 volt Halogen bulb (could be 12 or 24 volt) with dimmer socket.
Mounted on a "Kern Aarau" matching satin all alloy extending tripod including alloy Dolly.
Machined spike covers with rubber ferrules. Very smart. £950
132 Above right Rare 1948 Francis cabin operation 9" some more restoration to sort out.
Twin brass data plates Francis & "Simpson and Lawrence" Arrived as a box of parts still has it's 12 volt bulb.
Perfect original mirror mounted on a ex Military hard wood & brass tripod. Sell without tripod for £ 425.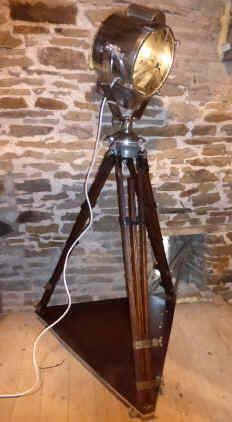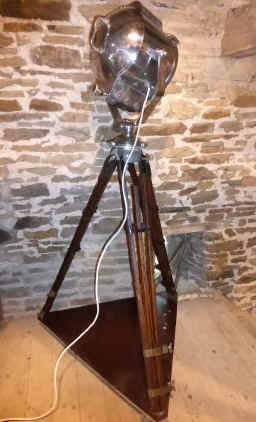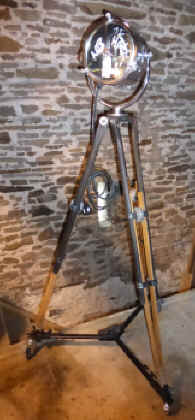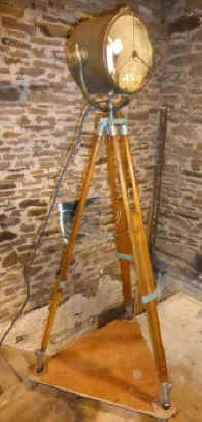 025 Above 2 left Francis Chrome on brass 1960. Big heavy light 12 inch front lens. Bevel edge flat glass mirror for
ornamental or standard light use. Re wired with 230 volt. 65 watt De Haan bulb ( Can convert to other types of bulbs )
including a dimmer socket Can be converted to Hanging but it is heavy
Original chrome external condition with a nice silver patina, signs of active service
Mounted on a very rare & heavy WW1 film era tripod approx 10ft fully extended! about 7ft in picture.
£1550 I would sell light without tripod.
060 Above middle right Francis 9 inch Searchlight 230 volt re wired ready to use.
Excellent chrome some minor scratches, mounted on a antique " Miller "of Sydney Australian two tone
wooden tripod. Including Konig soft wheel dolly. original spike feet with rubber ferrules. £1475
138 Above far right Francis WW 2 Rare 1943 with cast Data plate Francis 11" all brass Searchlight
230 volt, new Den Hann 65 Watt bulb including one spare,
original electrics and cable. Natural patina. Remanufactured brass tilt handle.
Ex Military wood and brass tripod s/steel anti splay chains
Nice original lead backed Parabolic mirror dated 16.02.1943 (can be changed for display flat) £1650
081 Below Francis 13 inch chrome on brass searchlight, fitted crown top silver bulb re wired 230 volt,
Mounted on very strong French "Gitzo" polished Alloy tripod fully extended 12 ft !
triple stage legs, rubber feet with anti splay that can also be set as low as 2ft.6 inch.
Wall tether stainless steel chain and Karabiners fitted
Spectacular combination. £1550 including a dimmer socket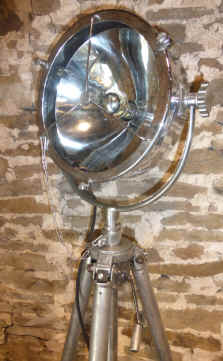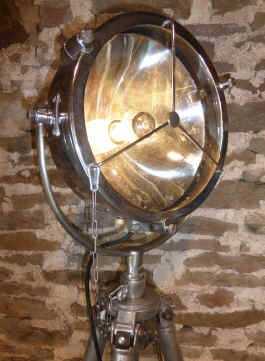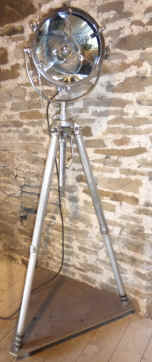 Note:- Above wheeled dolly just for display use not included unless required.
039 BELOW. Three matching ANTIQUE SEARCHLIGHTS
Ex Air Ministry, formed 1918 After WW1
Rare set of three Antique Brass searchlights unknown make
12 inch across lens 14inch depth max. Remnants of original Air Force blue paint.
They were originally carbon Ark lights converted to bulbs many years ago.
All updated with Bc low energy bulbs 240 volt. Glass bevel edged flat mirrors
Mounted on matching Ex Military tripods in original cast condition.
Oak & alloy spigot adapters with karabiners for wall tethering.
Will sell as a set or single. Display, Diorama or domestic use.
Consider offers on the set or maybe interesting light swap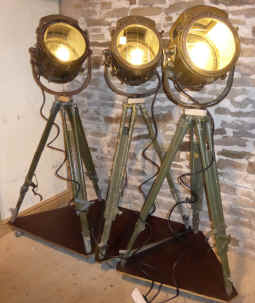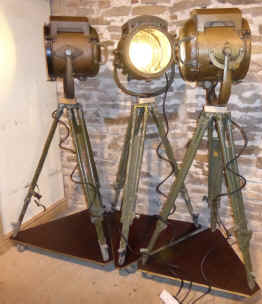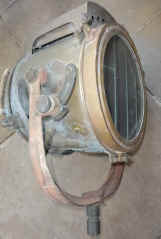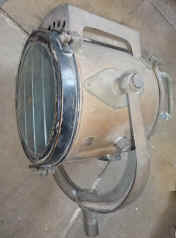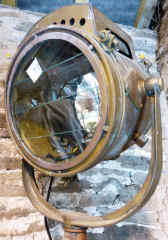 Let me know if you have any info on the manufactures
Could be polished but I prefer the original age patina
Note:- Above wheeled dolly's just for display use not included unless required.
087 Three pics below Francis 11inch all brass, cabin operation
complete with cabin internal base & deck handle, nice brass patina.
Fitted bevel edged flat mirror ( I can change for parabolic ) 240 volt es touchable halogen bulb. £950
Note:- Above Modified Tripod & dolly just for display use not included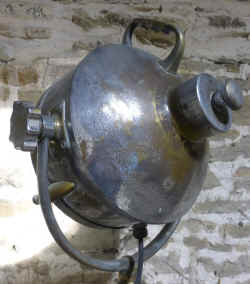 129 Above A pair of Francis ex Fire Service with matching original character issues !
SB models dated 1955 & 1953 original data plates. nearly a matched pair. Internals have been stripped
and re wired now fitted with 240 volt Crown top silver bulbs earthed cable fitted domestic plug, .
Working adjustable focus. Base mounts available extra
The external patina showing a working life cannot be replicated. £ 750 as a pair
041 Below left light grey Francis BIG 300mm 240volt 650 watt.
Complete with new bulb.
Cabin control marine searchlight. NOS some storage marks
Glass parabolic mirror, Original paint over brass, alloy and stainless steel fittings.
Could be polished or used as is. £1250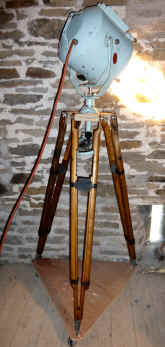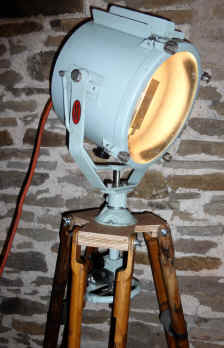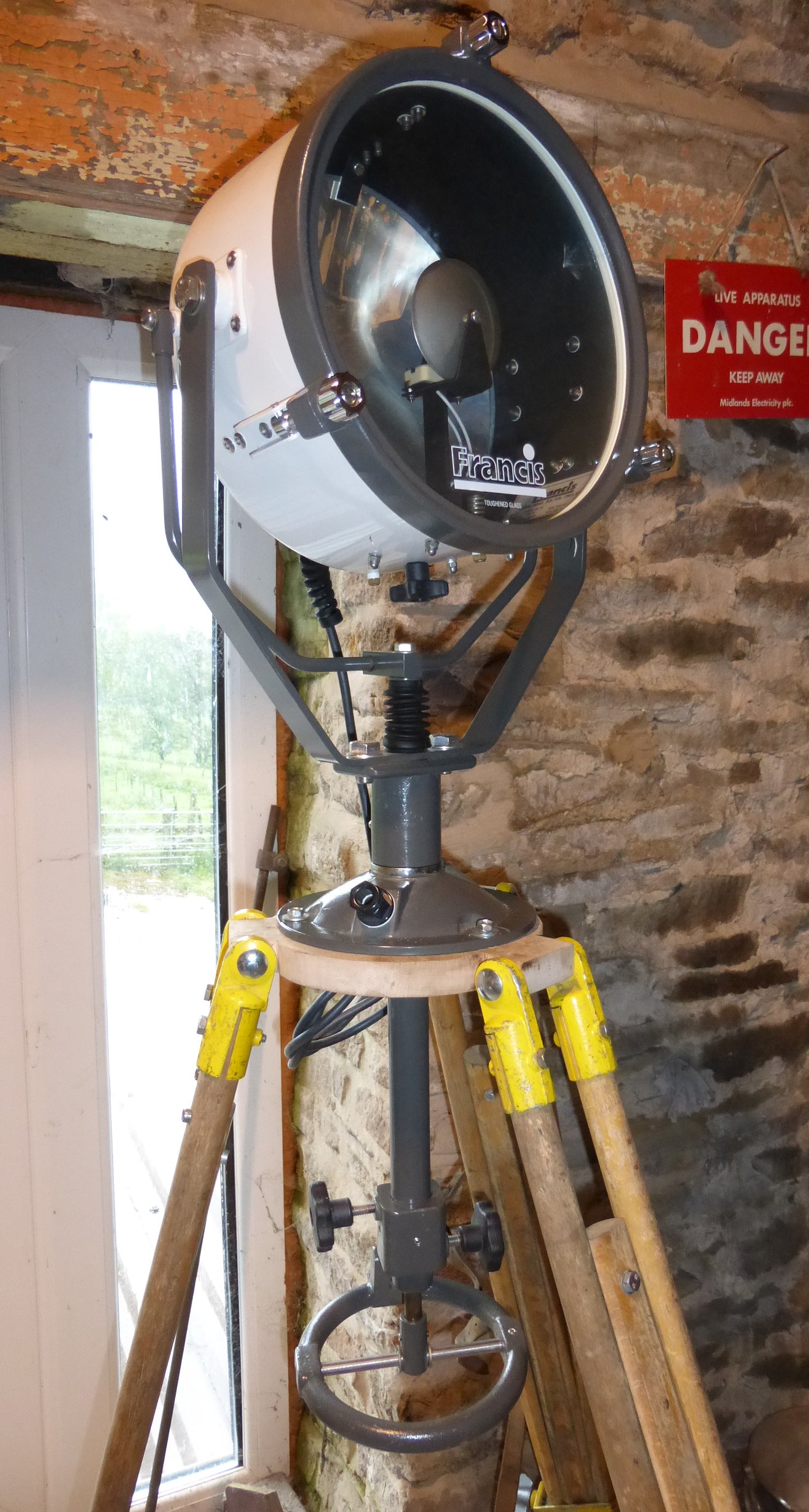 105 Above 3rd right Francis FR 280 mm Cabin/cab operation.
NOS can be 12/24/230 volt Halogen 12 volt LED.
Toughened lens glass with parabolic mirror, adjustable focus. Original paint over brass. £950
Note :- Modified tripods for Cabin operated lights just for display use not included.
124 Below 2 pics left Ex Military 17 inch flood/spot light 300 watt bulb
(1000 watt available) with adjustable focus.
I will include a GES to ES converter to fit lower Watt Halogen bulbs or LED Corn bulbs.
Galvanised barrel with brass fittings. Could be painted to suite new use.
Mounted on a Sokkia wood & alloy tripod (included) standing at 6 ft in picture.
Perfect alloy reflector .Light is New Old Stock condition.
Easy conversion to facade / floor up lighter or hanging / ceiling / Pendant light Less without tripod . £685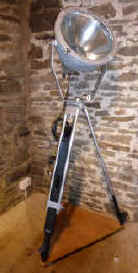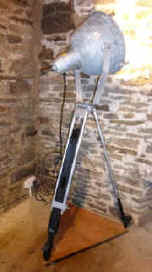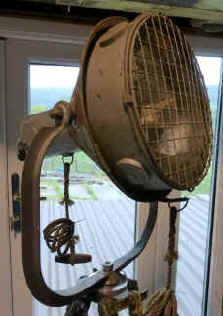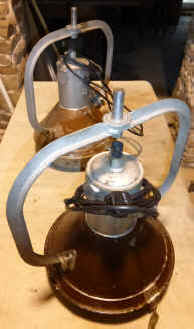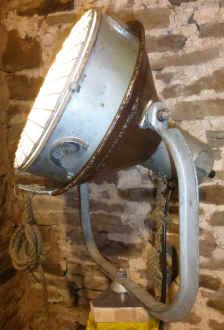 068 Above EX Military Field encampment Floodlights ( I have 2 left ) Segmented "petal" glass mirror reflectors simple and inexpensive to replace with front lens protectors. Re wired Can be110 or 230 volt. At the moment new 300 watt bulb GES fitting. I will include GES to ES converters to fit normal domestic bulbs. £525 each No tripod (Tripods available). I have the original wood transport packing case's could be used as the mounts for floor up lighters with base mounts at extra cost. Ideal Diorama or art work display .Could also be hung as ceiling down lights, I have ring bolts or Karabiners for hanging / Pendant, shown with cradle spigots. Original 5 ft long rope adjusters with wood toggles ideal for ceiling adjustment.
Original lightly roached patina !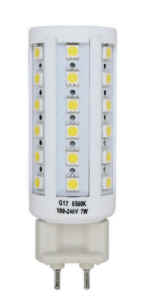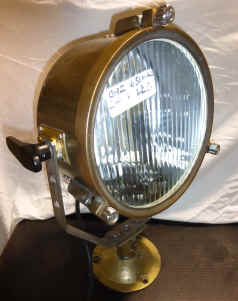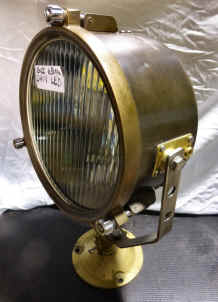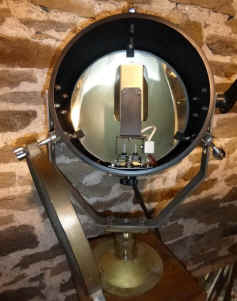 095 Above Francis FR 11inch stamped by Francis "Special" Modern LED Cool bright white light bright but with no heat
(see pic left) D12 fitting 240 Volt matched pair. Antique brass finish. Brass barrel & cast brass base mounts.
Stainless steel cradles & Base mount Allan cap head locking bolt. Front lens can be changed for clear or etched glass.
£1000 Each CONSIDER OFFERS SINGLE OR PAIR. Can convert to Ceiling / Hanging light
Below GEC 10 inch copper and brass flood light fitted Crown top silver 240 volt bulb,
No tripod . Will include a brass bass mount. Alloy mount in pic just for display. Please no offers. £275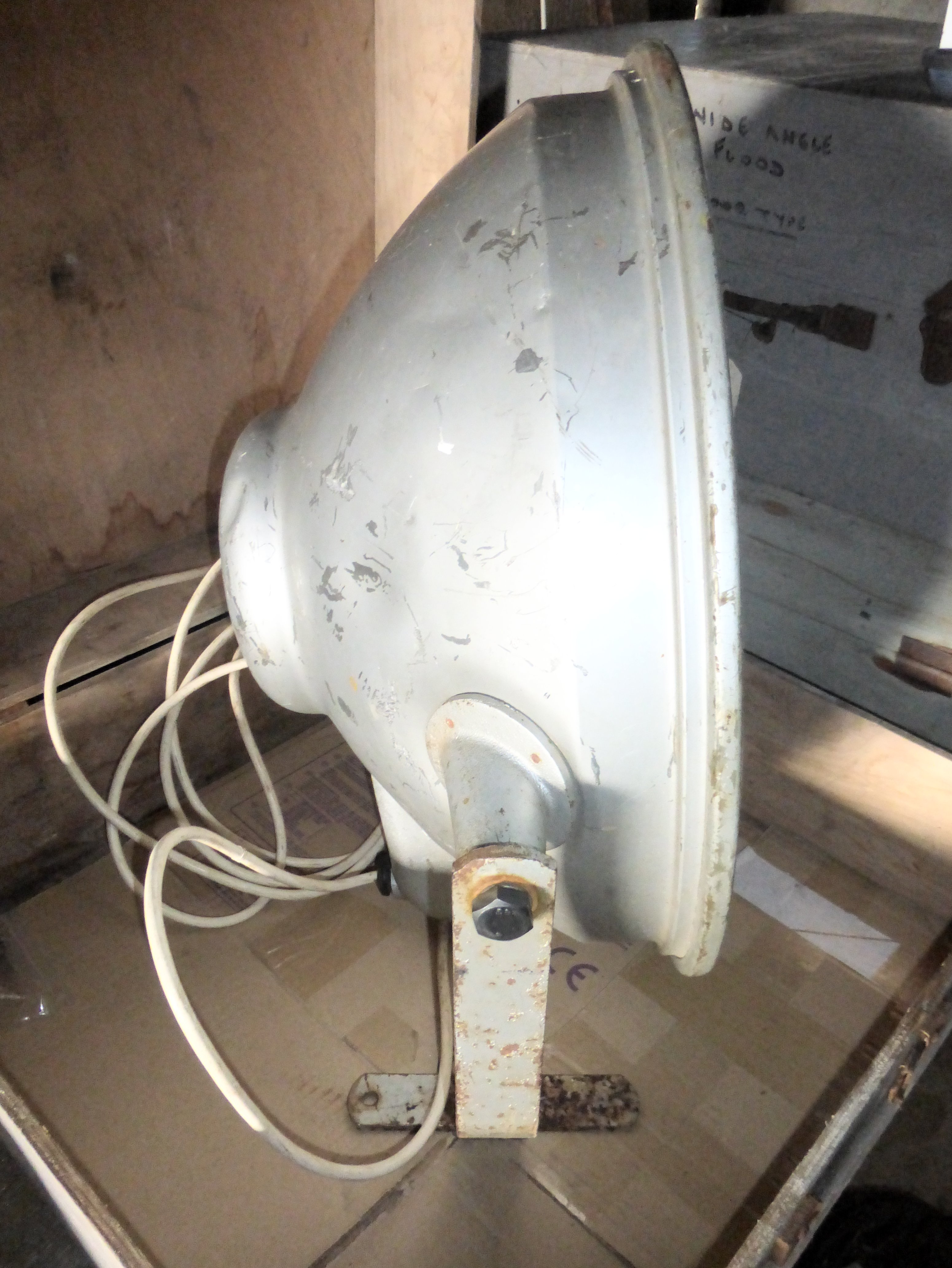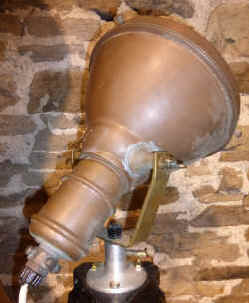 141 Below Francis 11 inch chrome on brass. touchable 240 volt Halogen bulb. Frosted lens. Bevel edge flat mirror .
Mounted on Ex Military alloy and wood tripod as cast condition.
Spigot ring lock with carabineer and stainless steel chain for wall tether. £975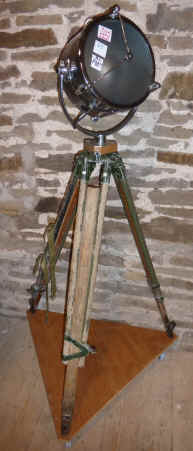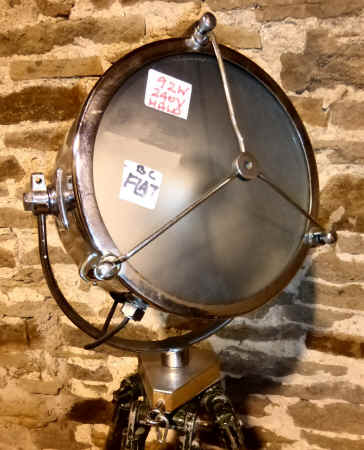 142 Below Francis 9 inch SB 1964 chrome on brass . 240 volt es Crown top silver bulb, original alloy mirror.
Nice alloy and wood studio tripod. Spigot ring lock with Karabiner and stainless steel chain for wall tether. £875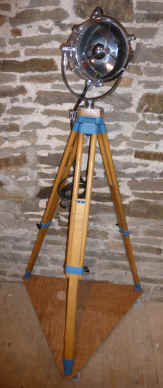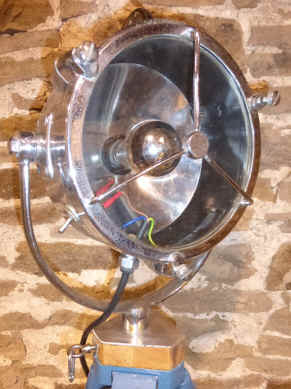 106 Below Francis SB 11 inch searchlight. Glass Parabolic mirror. Mounted on a early Webb brass & wood tripod.
Standing at 6ft 6inch, Both in Superb condition. Fitted 240 volt Halogen bulb with dimmer socket.
Oak & alloy spigot adapter with lock ring & tether chain. Fantastic house, office or display feature light £1400
Note:- Above dolly's just for display use not included.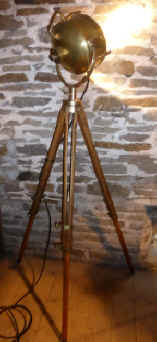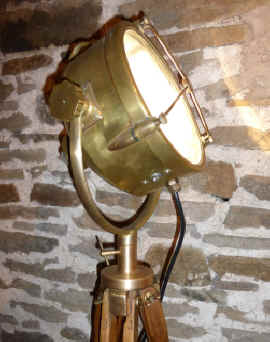 018 Below 2 left Francis searchlight 11inch satin black over brass NOS, Perfect glass parabolic mirror, toughened
front lens glass, complete with a vintage matching wood and alloy tripod ,unusual leg anti splay system with
rubber feet so ideal for a polished floor. Mounted on a Belora heavy duty soft wheel dolly .
Bulb 230 volt Halogen or 12 Volt LED . £1550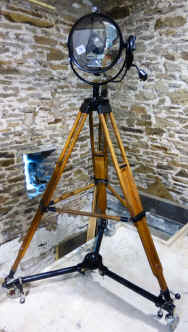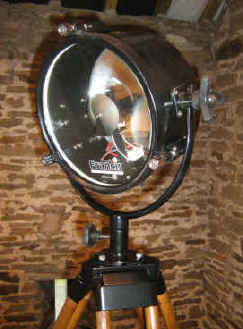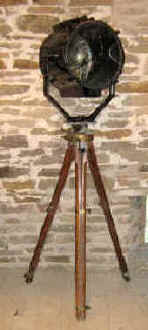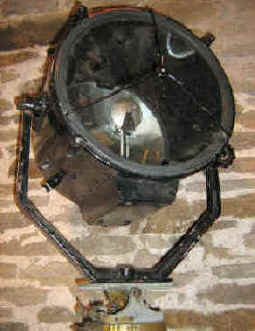 086 Above 2 Right BIG Heavy Francis 15 inch all brass but painted, original perfect parabolic mirror,
I could swap for flat display, Halogen bulb fittings.
Ex Military Airfield fire appliance. Now mounted on a rare antique wooden tripod with mechanical tilt
and pan ( legs set at lowest position in picture ) Both complete original un restored condition can be sold "as is"
£1650 if you want a easy restoration project. Will sell light on it's own
Could be converted to Fixed Hanging but bare in mind it is very heavy
PICTURES DO NOT REFLECT SCALE SIDE BY SIDE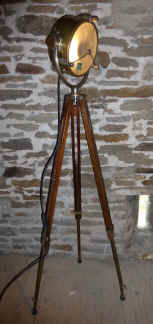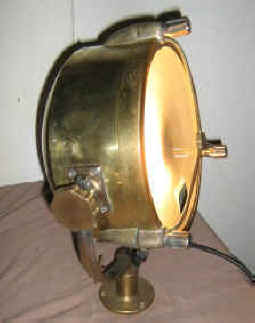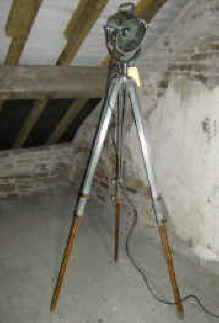 066 Above Left 2 Francis Marine 11 inch Brass searchlight Eddison screw 230 volt 60 watt bulb. Etched front lens flat mirror. Mounted on a slender Mahogany and brass antique tripod. Original spike feet with rubber ferrules. Ideal domestic or display Max height 7ft set at 6ft in picture £875 (can be sold without tripod as second picture ).
008 Above Right Francis 9 inch searchlight chrome on brass 230 volt crown top silver bulb including a dimmer socket with original glass parabolic mirror, mounted on a alloy, brass and oak vintage ex MOD tripod. Approx max height 7ft. Spike feet with rubber ferrules. £750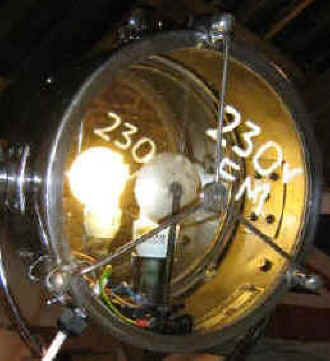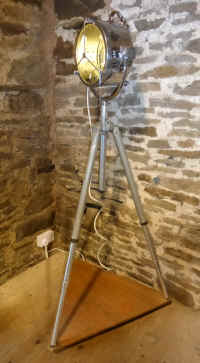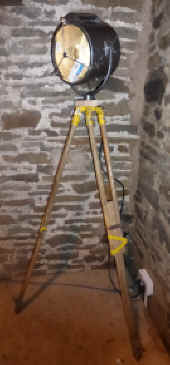 093 Above Right Francis Grey painted on brass Marine 11inch searchlight on Military wood & alloy tripod
Cancelled order in store since 1967 NOS I have two see 093 below.
118 Above 2 left Francis 11inch Searchlight 230 Volt low energy bulb, flat mirror, Crabtree switch .
domestic or display. mild signs of service. Mounted on a French "Gitso" alloy tripod. Fitted wall tether with
karabiners and stainless steel chain. Available with different bulbs, clear or etched front lens. £1325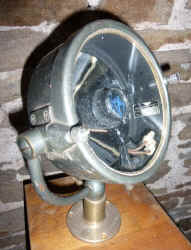 093 Above Left Francis Grey painted Marine 11inch Cancelled order in store since 1967 NOS
240 volt 65 watt De Hann bulb ,original grey paint over brass including base mount. tripods available. £750
I have another same grey with a Halogen bulb including base mount. £750
119 Above middle Francis Brass (painted) 7inch marine 12 volt, as arrived and now with a re manufactured base £300
Above right Base mounts Stainless steel, Alloy, Chrome & Bronze. Some new Custom made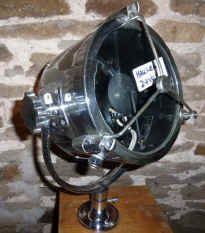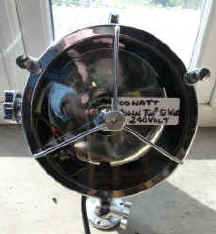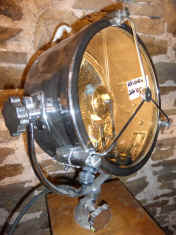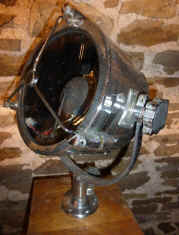 114 Above left Francis Marine Halogen 24 volt 9 inch no switch, Rear handle.
Original perfect glass parabolic mirror.
108 Above middle Left Francis 1968 9 inch fixed focus, 12 volt Ideal Canal tunnel light . £475
116 Above Middle Right Francis Ex Fire service FB 11 inch 12,24 or 230 volt Halogen with dimmer on in picture. Original
base, Switch and parabolic mirror, new cable and gland. Signs of service use. Clean Original condition.
117 Above Right Francis 9inch marine rear handle no switch 12 volt Halogen or LED Corn, chrome "pimples".
I have two chrome 11 inch ex canal boat tunnel lights with secure anti theft base mounts SEE 135/136
All above with or without base mounts
PICTURES DO NOT REFLECT SCALE SIDE BY SIDE
064 Below Right Francis 11inch Searchlight 230 volt Fitted frosted lens & bevel edge flat mirror domestic or display.
Original Crabtree barrel switch. Signs of active service. £ 425 base mount extra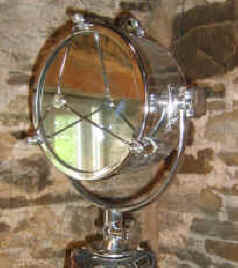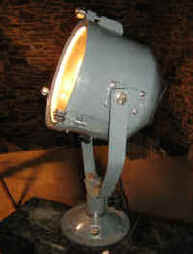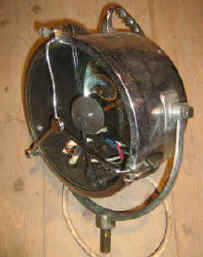 050 Above left Francis 11 inch all chrome on brass very smart, original glass parabolic mirror,
can be 12 ,24,or 230 volt GY 6 halogen bulb,also LED available. some minor signs of service.
Fitted vinyl tinted mirrored front lens (can be clear or etched). including original chrome base mount . £695
I have about twenty 11&9 inch lights some not restored "as is" condition
020 Above middle left Francis Marine FR "Special" grey painted brass over brass 9 inch
NOS searchlight flat glass mirror
converted by Francis to standard 240volt bc bulb could be used as a desk / interior or
Can be converted to Ceiling/ Hanging light
Original heavy cast brass base mount. £450. Less without base mount.
096 Above middle right Francis Marine 280mm 11inch FR. "Special" 150 Watt Metal Halide,240 Volt (can be LED)
Paint over brass .Original heavy cast base mount
Fluted lens can be changed for clear or etched .Flat or parabolic mirror.
£650 Less without base mount. Can be converted to Ceiling/ Hanging light
098 Above right Francis 11 inch halogen fitting 12/24/230 volt as arrived. Base mounts extra .
Last used in a Stage drama production Pat tested by them
I have a pair. They would benefit from some minor restoration. £680 Pair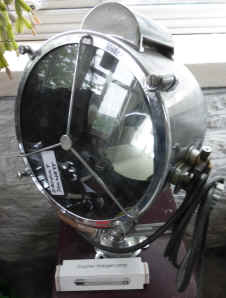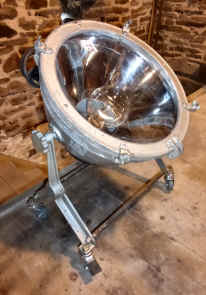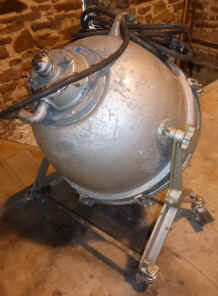 083 Above right. Francis FL3 17 inch flood / Searchlight uplighter GES fitting can be 300/500/1000 watt
110 or 230 volt. GES to ES Conversion included. Simple slide beam adjuster
Alloy cradle & Steel barrel with brass fittings. spun alloy reflector.
Fitted 50mm braked none marking soft rubber castors. Ideal for art work display or diorama. Ex Fire service.
£ POA will depend on any mods or restoration. Original silver paint.
015 Above left Francis.12 inch lens searchlight direct fire service nice original condition
Fitted 240 volt GES 300 watt tube bulb
Original glass parabolic mirror I can change for display flat. £1100
Below Pair of Antique style brass pendant lights with Halothane glass shades,
modern cable and standard bc bulb fittings.
8 inch hanging chains, can be fitted with Antique style Squirrel cage bulbs "See below " £160
Below 1930's Lucas King of the road Car / Van / Truck. 8.1/4" Headlights including
matching 4.1/2" side lights original mount brackets
Stirrup cradle headlights with tube clamp mountings. £450
Below Rare Vintage car, commercial or Hot Rod headlight's / spot light's base mount's (pair) round bar or tube
fitting all bolts and tube remnants remove easy, brass with useable chrome. £150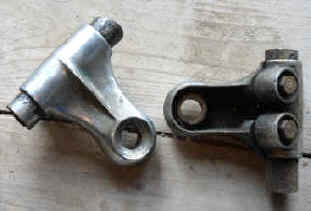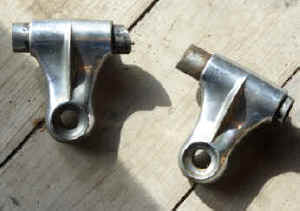 137 Below Butler Cabin operation 7" Left NOS Right used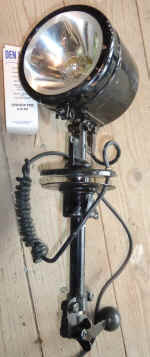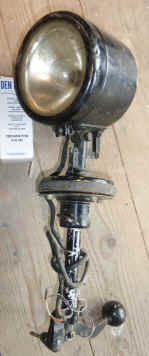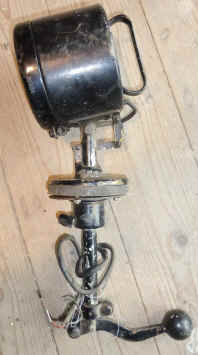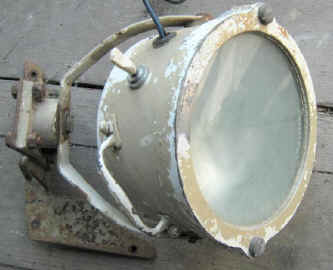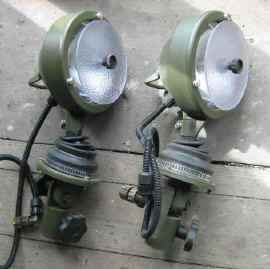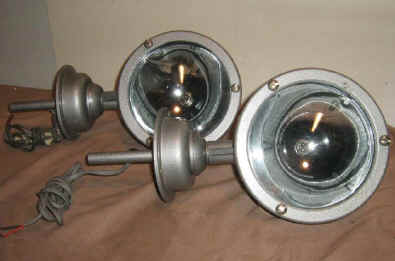 070 Above left Francis early ex military flood light 7inch. frosted lens with etched "Francis" logo. Desert sand paint .
071 Above centre Two Francis 7inch NOS ex MOD drops vehicle .Halogen bulb fitting.
Flood lights with front disc diffuser (just unscrew to make searchlight)
matched pair, can be pole or flat mounted. Will fit on to Military aerial side mount poles when removed from
heavy duty mount. I have another still in the original box unpacked.
072 Above right Francis 7inch ALLOY cabin operation searchlights, matched pair. Ex Naval, NOS
Below left to right brass pillar/hand lamp 3.5/8 lens ,Chrome Eversure pillar lamp rear handle 4.3/4 lens, Chrome Raydot
spot light rear handle 3.3/4 lens. Chrome work light rear handle 4.3/4 lens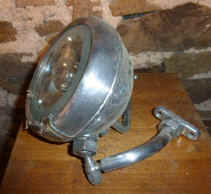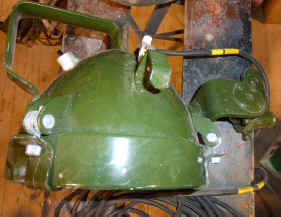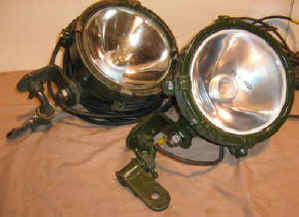 073 Above Two Francis AFV Military vehicle lights (Champ & Landrover ect ), one NOS one used. Both with correct brass
full mounting brackets, cables ,dash plugs Including original RARE all weather hoods £395
031 Below far right GREY cabin operation bottom handle. SEARCHLIGHT 9" Diameter, could be flat roof or vehicle
mounted. Total height 49". 28 volt sealed beam. NOS condition. £385 Complete.
*Note O31 below far RIGHT :- mounted on a wooden tripod only for display
074 Below left Two Ex Military FV 9 inch halogen Search / floodlights with alloy reflectors.
I am told they are ex Centurion Tank lights both mounted on EX MOD tripods
genuine un restored hard wood and brass. Standing at 4ft 2 inch in picture with approx
another 2 ft adjustment Military diorama ? Will sell just lights.
Electrics are original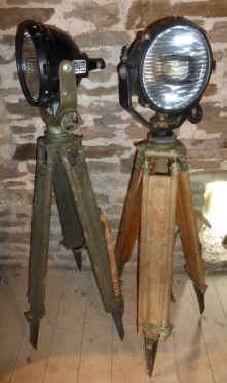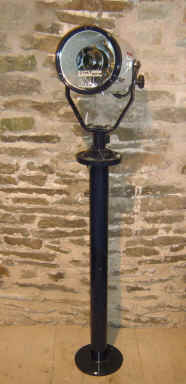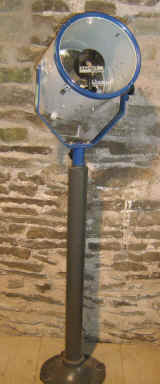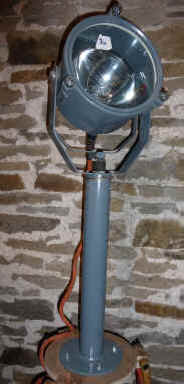 PICTURES DO NOT REFLECT SCALE SIDE BY SIDE
029 Above Left middle Francis searchlight "Lite 230" 9 inch, fixed focus fitted 12 volt 100watt ( 230 volt also) alloy
parabolic mirror, Stainless steel body. toughened glass. NOS condition. £375 just light.
Can be converted to Ceiling / Hanging
032 Above Right middle Francis "Lite 300" 11 inch Deck mounting, alloy mirror,240 volt 600watt, Stainless steel body
toughened glass. Fixed focus inc new bulb NOS. £475 just light.
Can be converted to Ceiling / Hanging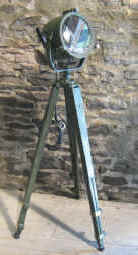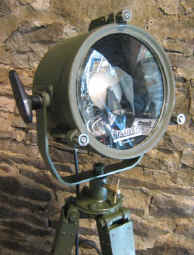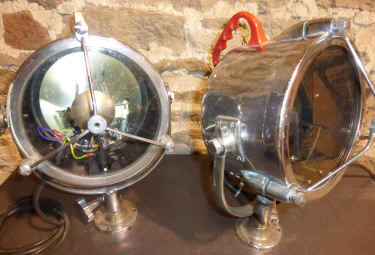 147 Above right Francis FB 9 inch Ex Fire Service Original condition nice mirrors, including base mounts
Chrome over brass £900 Pair
088 Above two pics left Francis searchlight 9inch halogen Nato green over brass, toughened lens, perfect parabolic mirror fitted 12 volt bulb can be 24 or 230 volt. Beam adjustment. Mounted on a Military alloy tripod spiked feet with rubber ferrules. Some signs of use. Max height extended 6ft 2inch. £550. Less without tripod Can convert to Ceiling/ Hanging
Below Falklands Veteran, Royal Fleet Auxiliary SIR PERSIVALE L3036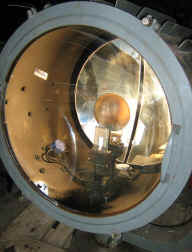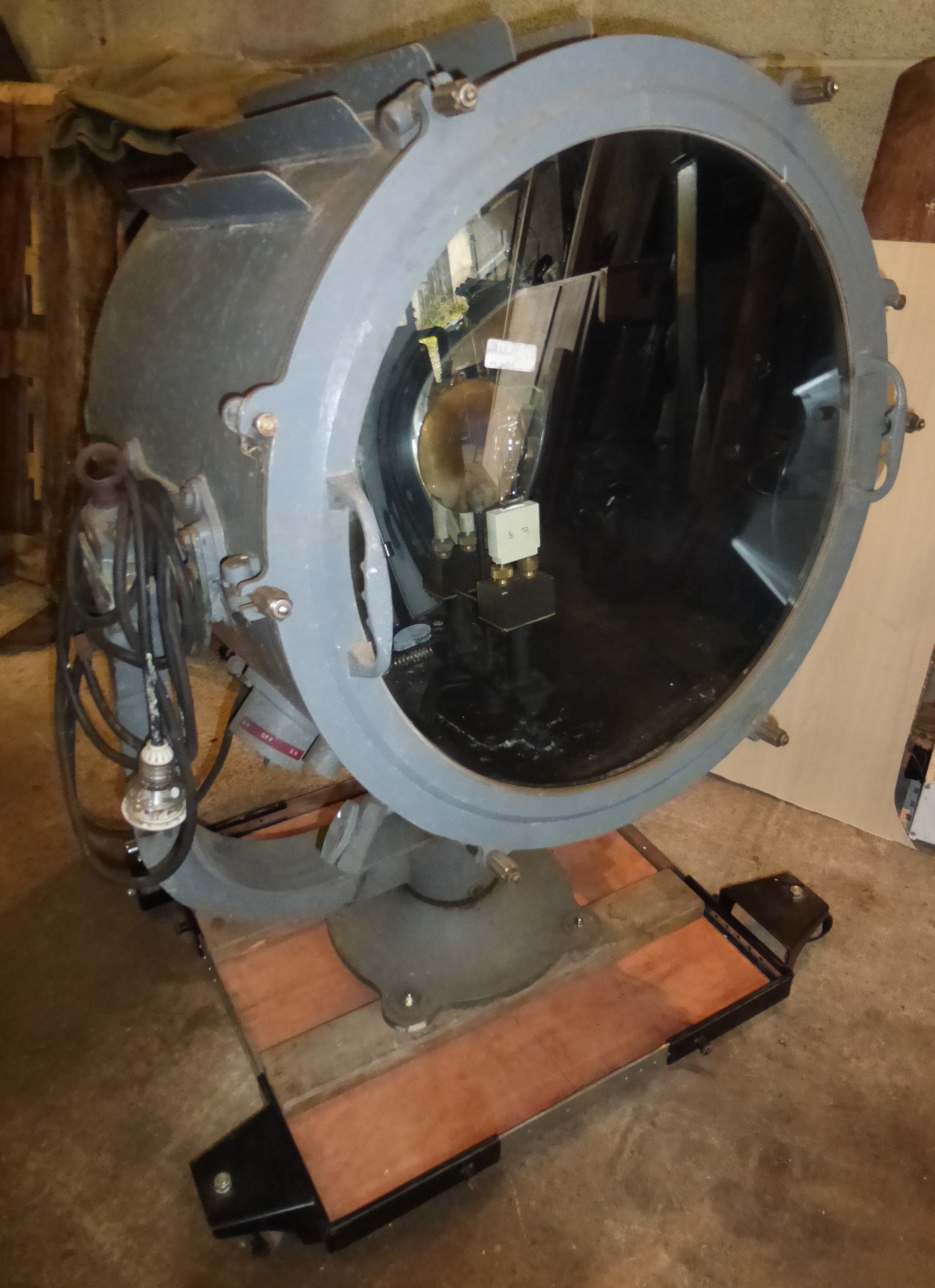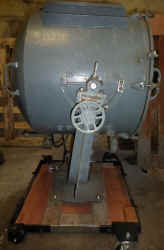 054 Above Francis Marine Suez light, 24inch lens Direct off the ship from the breakers .The Royal Fleet Auxiliary is a civilian-manned fleet, owned by the MOD, which supports Royal Navy ships around the world, supplying warships with fuel, ammunition and supplies. The RFA fleet is fully integrated into the RNís command and control system and forms a vital part of maritime operations. RFA Sir Percivale L3036 know by ships company as "Percy" This was the first British ship to re-enter Stanley Harbour at the taking back of the Falklands. The ship also served in the Gulf War in 1991 and was present for the handover of Hong Kong to the Chinese. Made of aluminium could be polished but I feel it would loose its history. Suez spec twin 2000 watt bulbs (still available). Perfect twin mirrors (so you can see both banks of the canal at once or single search beam ) Totally original condition with real British Naval history. Single phase fitted heavy duty Clipsal domestic 13amp 3 pin plug with original cable and switch. Mounted on a industrial easy to move dolly. Note* Combined weight 95 Kgs
£2500. The ship now dismantled .
MORE FALKLANDS HISTORY SHIPS LIGHTS
Below HMS FEARLESS Rare Signal lights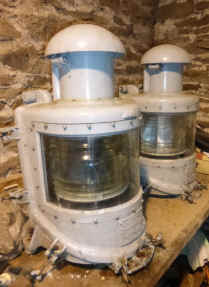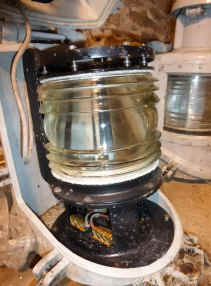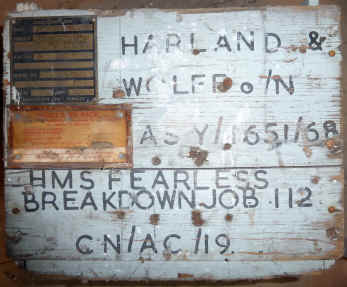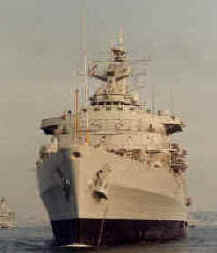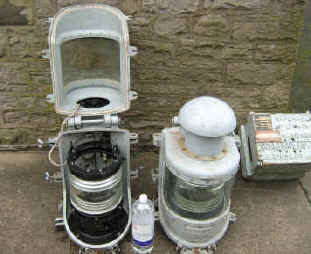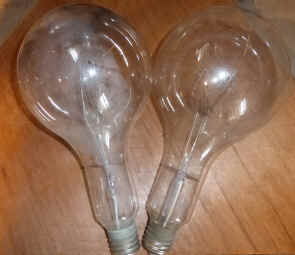 Picture above far right is a spare extractor fan motor in the original box with Fearless data plate history.
036 Above 1982 Falklands and 1990 first Gulf war veteran HMS FEARLESS. Built by Harland & Wolf 1965. Daylight signal lights, large 28" tall & very heavy All alloy totally original, inc all data plates, Dated 1961 made by Francis searchlights. Unique ? Fantastic outside / inside feature lights. Real Royal Navy history. The Ship appeared in 007 film The Spy Who Loved Me. Special forces based on Fearless. (sister ship to HMS Intrepid) Now dismantled at Van Heyghen breakers in Ghent.
Still with original GES bulb fittings. I will include GES to ES converters or original 1500 watt bulbs. £2000
ROYAL FLEET AUXILIARY SHIP GREY ROVER A269
I will include with the light the ships original Ensign (flag) Both straight from the ship to me see picture below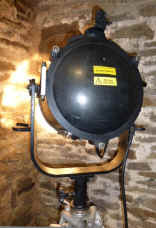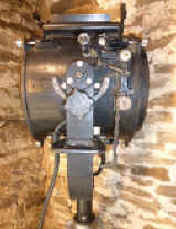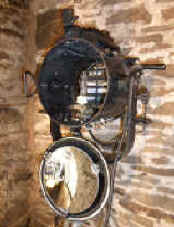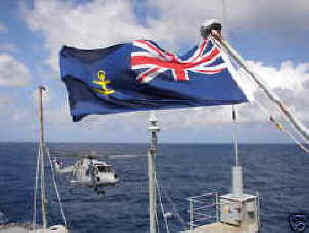 046 Above Francis 250 mm brass Signal / Searchlight,1300 watt original bulb. including heavy duty alloy tripod 6ft total height. Approx total weight 50 kgs Ex Royal Fleet Auxiliary Ship "Grey Rover" ,Small fleet tanker. Direct to me from the dismantlers in Liverpool. Nice original used condition complete with glass parabolic mirror. I will include with the light the ships original Ensign (flag) , Both straight from the ship (see picture) During 1973 while serving as the Clyde port oiler she was struck below the water line by the Canadian submarine Okanagan while submerged. June of 1976 saw her standing by to evacuate British Nationals from the Lebanon. In December of 1978 during her passage from Karachi to the Seychelles, RFA Grey Rover was ordered to loiter off Iran after civilian unrest with the possibility of the evacuation of British Nationals. In November of 1983 RFA Grey Rover was back in the Lebanon during Operation Offcut, the naval support for British troops in the multinational force in the Lebanon. September of 1984 saw a team from RFA Grey Rover fire fighting on the motor yacht Yankee Clipper in Freeport in the Bahamas. In 2004 while in the far east RFA Grey Rover conducted the first ever RAS for the Singapore after her final tour down the South Atlantic she sailed for the Caribbean where RFA Grey Rover was part of the biggest drugs bust in recent times with a haul of approximately £350 million of cocaine. RFA Grey Rover finally sailed into Portsmouth on the 15th of March 2006 . See ribbon in above pic light position on bridge. £3550
Below. HMS INTREPID EX FALKLANDS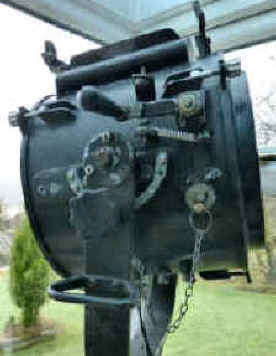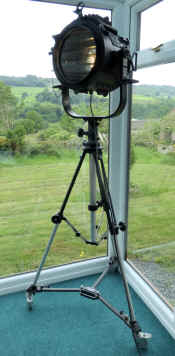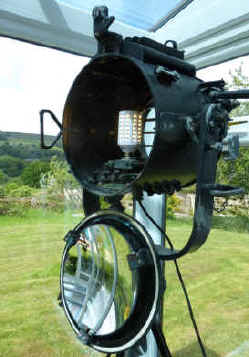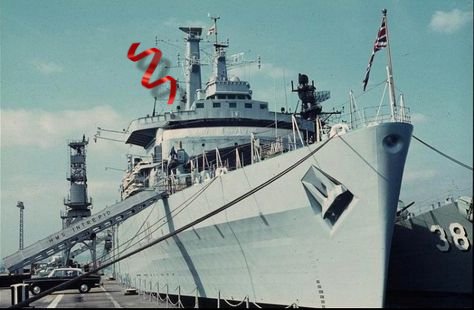 133 Above Francis FSP 250mm 10 Mile signal projector EX HMS Intrepid
Launched 1964 at John Brows shipyard on Clydebank
Sister ship to HMS Fearless Ex Falklands
Red Banners in pic above shows position of the signal lights on the ship
complete with a De Vere industrial tripod & including a Konig soft wheel dolly with brakes.
Standing 6'.6" in picture extra 2ft available.
In the process of being decommissioned , she was rapidly returned to service to sail as part of the British
operation to retake the Falkland Islands after the Argentine invasion in 1982. She landed troops in
amphibious assaults on the Islands and the Argentine surrender at the end of the war was signed on her deck
( I have a copy of the surrender ) Original external condition.
Perfect parabolic mirror. working shutters. Fitted 230 volt LED bc corn bulb. £2850
The ship was decommissioned 1999. Dismantled in Liverpool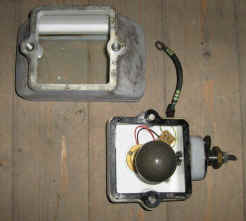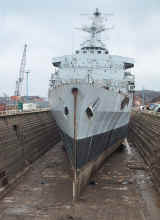 091 Above Ex Falklands HMS Intrepid .Delta deck /cargo lights. Heavy cast alloy with stainless steel fittings.
standard bc bulb fitting, bc to es converters available
I have three left. Real Falkland history, See 133 above .Totally water proof
Direct from the dismantlers in Liverpool to me, see picture of ship in the Graving dock.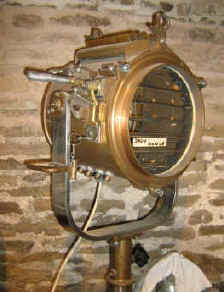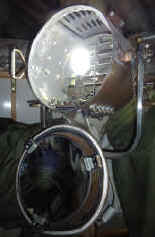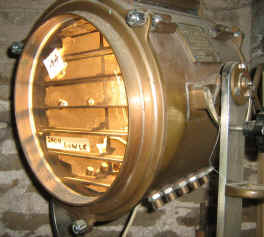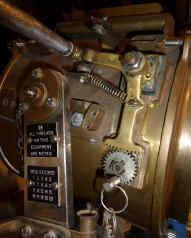 044 Four pics Above Francis Marine 250 mm Royal Navy Warship signal / searchlight.
Dated 1988. Weight 33 kgs without polished brass pedestal.
All polished brass, fantastic condition. BC 230 volt low energy or standard 230 pearl bulb
( pictured back open with LED Corn bulb) several types of bulbs available. Original perfect glass parabolic
mirror with working shutters spectacular feature lamp for Commercial display or domestic light.
Perfect parabolic mirror. working shutters. Fitted 230 volt LED corn bulb. £2950
107 Below WW11 Optical concave parabolic mirrors. 10 inch diameter & One inch thick ,optical focus 5.3. Telescope, range finder or could be searchlight ex Royal Navy Portsmouth. Re silvered & Dated 1939. lead backed with copper outer ring. Rare and expensive item when new hence re silvered by the Royal Navy Dockyard 123 The other re silvered & Dated 1.11.1942
Note :- Glass of this thickness is ground to shape.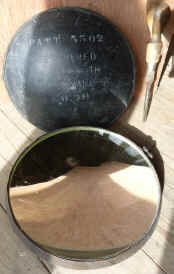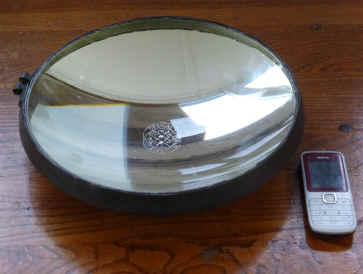 012 Above Right Francis 9 inch cabin operation original all
brass but painted. £750 As is"
Note :- Above Tripod is for display not included at the price.
038 Below Veteran/Vintage CAV Antique Brass searchlights 12", parabolic glass mirror, Adjustable focus.
240 volt BC modern 70 Watt halogen bulb with dimmer sockets. As used on early fire appliance's.
pic right with dimmer on. Looking for cradles / supports brass or steel .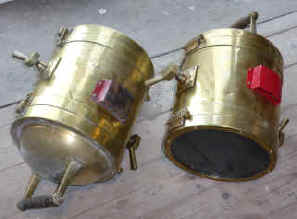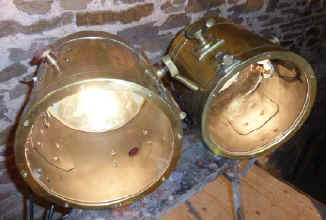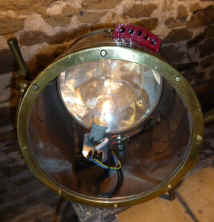 * As below WANTED ELLIOTT Medium level Military / Fire tripods
not bothered about the carrying case *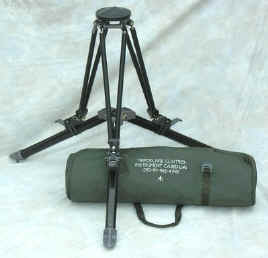 I have a few of spare original tripods some fixed antique wooden with brass fittings & alloy types. FROM around £40 for one "speaker tripod" Can be as much as £750 for the early very rare ex WW1 hand crank movie types. Note* The price may include engineering of parts already carried out plus international shipping and import taxes .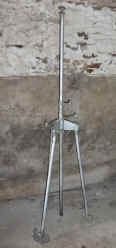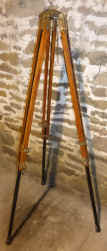 Above more available tripods
143 Above Modern yellow with orange top wood and alloy Max height 5ft 9 inch £115
129 Above far right end NEW ZEALAND EX WD slender oak/brass tripod rubber foot ferrules restored. £195
127 Above far right Vinton of London Antique tripod, light hollow wood tube, standing at 5ft in picture ( 3' 6" closed)
original nice condition multi function head inc leather leg strap. £225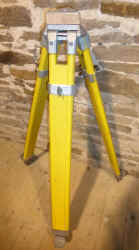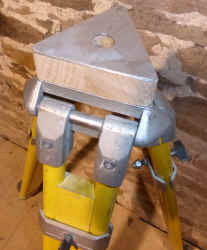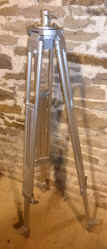 144 Above 2 left Surveyors tripod 5' 3" fully extended. Ready for light.
Alloy & wood. Ex military had very little use. Paint you own colour. £295
145 Above 2 middle Surveyors tripod 6' 0" fully extended .Ex Military rare model .
Alloy & wood. Oak and alloy top mount ready for light spigot .Paint you own colour £325
146 Above far right All alloy modern tripod very light weight. Alloy spigot base mount £185
Disclaimer: Every effort has been made to ensure the accuracy of the above information but errors may occur
Please ask if not sure.
Click below for next page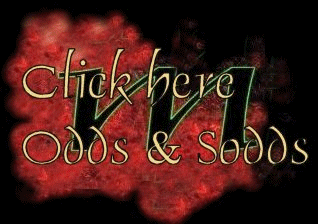 07733 218822
NOTE* All emails received with no subject details are automatically deleted